By Maggie Shui
Like pretty much every artist in New Zealand, Raiza Biza has just had a bunch of shows and interviews cancelled due to measures to stem the spread of Covid-19.
"It's really hard to make a living being a musician in New Zealand," says Raiza. "It's really touch and go. Every single show, every single bit of streaming or revenue, that all adds up to create a very modest living. Once you take away a month of income, that will send a lot of musicians into panic. Because either way the bills have to get paid, the rent has to get paid."
It's a hard time to be releasing music right now - which is why it's as good a time as any to be supporting local music.
Raiza Biza has always wanted to make a bank robbery music video. In the video to his new track 'Funds Pt. II', a remake of a song from his album Bygones, he finally got it.
Produced by Zee the Habibi, the song is a roll call of African-Kiwi hip hop talent. The original track 'Funds' features Blaze the Emperor, and the remake has added to that features list Abdul Kay, JessB and Mo Muse.
Raiza half-jokingly calls himself an "old veteran". "When I came in the game, I was the only African-Kiwi kid out here in the music industry. And now in the last few months I'm looking around and I'm seeing JessB, I'm seeing Mo Muse, I'm seeing Blaze, I'm seeing all these other African-Kiwi artists who are really doing their thing."
He says getting this line-up on 'Funds Pt. II' was a way to capture this watershed moment. "I thought it could be a moment that people could look back on in the future and be like, woah, African Kiwis are part of the creative landscape and we're here to stay."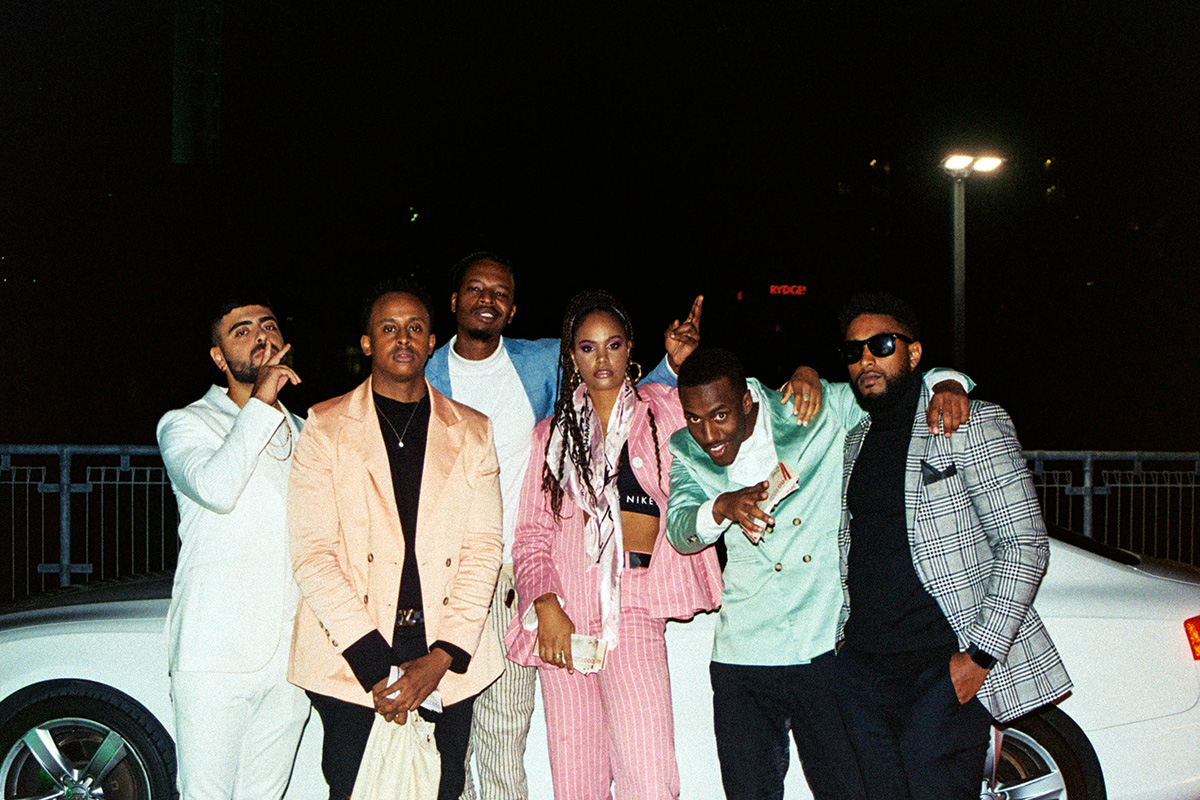 And it's a moment that's memorialised in a lavish music video, filmed and directed by Connor Pritchard, that has all the trimmings of a classic heist movie - a video concept that Raiza has been waiting for years to have the right track for.
We've got the planning scene in a smoky, dim-lit room, with our five rappers huddled around a table, probably pouring over blueprints under an overhead lamp. We've got JessB giving the middle finger to a security camera with one hand, and clutching a handgun in the other. We've got JessB in a pink pinstripe suit and gold hoop earrings, with a silk scarf draped casually around her neck. Where do you reckon she got her suit from?
Sorry, I got distracted. We've got Abdul Kay as our getaway driver, ready to whisk the bank robbers away. And we've got the celebration moment backdropped by city lights, where everyone revels in the fact that they pulled it off (although the bank teller didn't seem to be making it that difficult).
Just those scenes alone would justify why Raiza longed for a bank robbery video for so long. But beyond the fun imagery and tropes, Raiza was attracted to a metaphor lying within the bank robbery concept. To him, the bank signifies the traditional music industry where big labels dominate and sign up-and-comers into deals that "are not really made in favour of the artist." The robbers are the underground industry - indie artists and labels who cobble things together with DIY, and harness the democratising capabilities of the internet.
"I always wanted to make that statement like, look, we're coming to take what we feel is ours, what you guys have been hoarding away. And we're doing it unashamedly and not taking no for an answer."
In the last few days, however, the prospect of getting those funds is looking uncertain and scary for artists - more so than usual. For now, we can support the artists we love by purchasing and streaming their music online.
Raiza Biza's album Bygones is streaming now on Spotify and Apple Music.
Purchase Raiza Biza's music and merch on Bandcamp here.