So far 'Shot Bro' is a crowd favourite, can you think of something better?
Today several new 'Mr Whippy' style buses are being launched as part of the country's vaccination campaign. The buses will visit areas that have low vaccination rates and make it easier for people to get jabbed close to home.
And the Prime Minister wants our help naming them.
Jacinda Ardern made a Facebook post yesterday asking people to vote for their favourite of four options she has narrowed down. The most popular choice with 14,000 votes and counting is 'Shot Bro'. A clear second place is 'Vaxi-Taxi' and then 'Jabba Waka' is in third and 'Jabbin Waggon' is in fourth.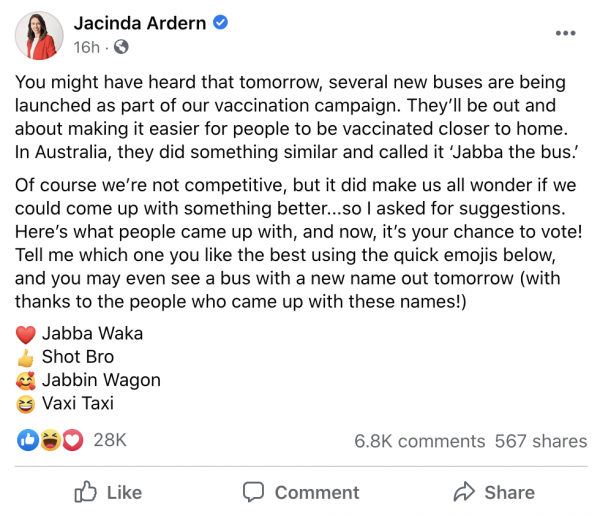 Australia is doing something similar and they called theirs 'Jabba the bus.'
"Of course we're not competitive," Jacinda Ardern wrote in the Facebook post.
"But it did make us all wonder if we could come up with something better...so I asked for suggestions. Here's what people came up with, and now, it's your chance to vote!"
The bus fleet will expand from six to 12 in the coming weeks. Some people suggested in the post that free ice cream would be a fitting incentive to get vaccinated.
"Can we just get a free ice cream with a flake, dipped in chocolate and sprinkles after we have had our jab. Now that would make me want to go even more lol," one person wrote.
You can vote for your favourite on Jacinda Ardern's Facebook page.
More stories: