A projected 80 percent of future jobs will require maths and science skills. And New Zealand is not ready for it. Re: Journalist Baz Macdonald explores the future of work, and what we need to do to prepare for it.
The government's "Essential Skills Demands List" are all the jobs we are most in need of - like doctors, engineers, and IT specialists.
Despite the differences in these jobs, they all share one thing - a requirement to study science, technology, engineering, and/or mathematics.
These subjects are often referred to as STEM, and are largely considered what's needed for the future.
One New Zealand isn't ready for.
In 2019, 80 percent of all IT jobs created that year had to be filled by immigrant workers - over 3000 people.
A 2021 survey projected that in the next five years New Zealand would be creating 4000 - 5000 new digital technology jobs a year.
Even with 38 percent of New Zealand university students enrolled in STEM degrees in 2019, it's still not enough to meet the current and future need for STEM workers.
Now more than ever, we need to be inspiring a future generation of scientists, engineers, and innovators. But are our schools up to the task?
Why STEM teaching is important before university
A report by the Productivity Commission found that in order for New Zealand to keep up with this future of work, we need to "urgently address the performance of the schooling system" in these areas.
Over the last 10 years, we have seen a significant decline in the performance of New Zealand secondary school students in science and maths.
These are determined by the Program for International Student Assessment (PISA), which judges 15-year-old students around the world on their reading, maths and science skills. While New Zealand ranks well overall at #15 in the world, we are still seeing rapid decline in science and math skills.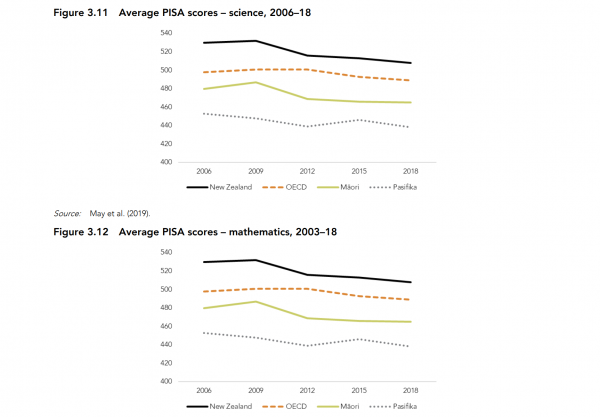 As a result, we are seeing fewer young people following these subjects through high school, university, and then into the job force.
A 2017 survey of Auckland high school students in Auckland found only around a third of students attempting Level 1 maths and science would go on to achieve level 3 in those subjects.
Dr Kaitlyn Martin is a lecturer in Science and Technology Education at the University of Waikato. She says the decline in students engaging with STEM is a sign we are not engaging them with these topics young enough, or in the right ways.
"One of the biggest challenges is that students consciously or subconsciously are making their career decisions before the age of ten," Kaitlyn says.
"Students need to have those rich science experiences during their primary/intermediate age. That is where many of their attitudes and inclinations develop."
As well as developing an interest, by introducing STEM at a younger age it will make young people more comfortable, and confident in these subjects.
Attitude has been shown to be one of the biggest determining factors to career decisions, Kaitlyn says.
It's not that our students don't like these topics, it's that they don't feel equipped to engage with them. Research has shown that while three quarters of year 9 students like science and maths, less than half feel confident with it.
Which is why Kaitlyn sees building STEM confidence at the primary and intermediate level as key to increasing the number of STEM graduates in Aotearoa.
STEM problems require STEM solutions
Create Base is a startup out of Auckland University working to make STEM education more engaging for both students and teachers at intermediate level (years 6 - 9).
The team were drawn to this work partly because of issues they had with their own science and technology education at school, Create Base team member Brydon Burnett says.
"We all share similar stories. When we look back at our educational journey, all the way back to year one, there was a real lack of purpose behind the digital technology we were taught," Brydon says.
The Create Base team
While they were taught the theories in science, maths, and technology, he says they all found their education lacked the why - why is this important to know? How would it be applied in the real world?
Applications like how an engineer might use calculus in designing a bridge. How a chemist uses titration to analyse the composition of food and drink. Or, how software engineers create applications from code.
It's an experience not unique to them, Brydon points out. It's pretty universal in high school classes for someone to put up their hand and ask, "when am I ever going to use this in real life?"
"We need to give students some context behind what they learn, so they can understand why that learning matters. Right now, it's very difficult to see how you can apply a concept like calculus when you're not in a math class."
Brydon highlights this lack of application as one of the key reasons for waning engagement with STEM throughout students schooling.
"The whys provide us like the reasons, the motivations, to actually want to pursue things in life," Brydon says.
"Without that purpose, a bunch of our team members never truly determined what they are passionate about in life until they left school and went to university."
"That's a very common story amongst so many different students - they have absolutely no idea what they want to do all throughout school, even through a lot of university."
How Create Base is making STEM education relevant to students
They've created a platform that presents compelling scenarios for intermediate level students to apply skills such as engineering, coding, and technical problems.
Through a gamified computer application, they present scenarios for students to work through that teach them the theory of these topics through problem-solving techniques.
In one scenario, there has been a fault at a recycling plant and the materials have spilled out throughout the factory. Students need to programme a robotic arm to pick up the rubbish and sort it correctly into its recycling category.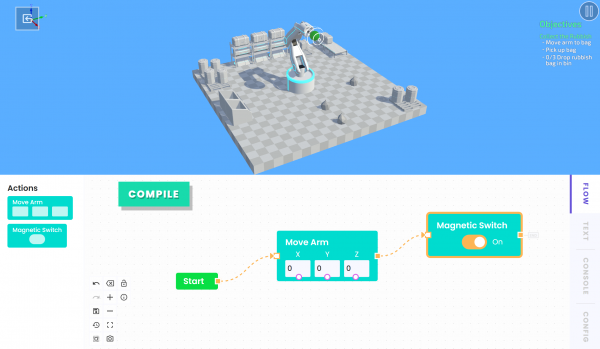 The Create Base platform
In this instance, the kids would analyse the problem, devise the optimal way to programme the robot for the task, and apply some basic logic and code to execute that plan.
The team has already had a lot of engagement with their concept, winning the 2020 Red Bull Basement University competition - which challenges students to pitch tech solutions to problems. They made it to the top 38 finalists at the global finals of the competition.
The Create Base platform is due to be rolled out in schools next year.
Applications for this year's Red Bull Basement University competition are now open. Head here to apply.
More stories: