Anyone familiar with online drug dealing platforms will know about the Discord server 'NZEnts'. Set up in 2017, it had more than 500 users at its most popular. Yann Kohout talks to the guy behind it.
There's nothing like ten dudes with ear pods cooking chicken breasts to convey young entrepreneurship and a pretty special version of 'flat dinner'.
The large house, tucked away in east Auckland, is home to a bunch of early-20 tech and business nerds. Among them is S0ck. Unassuming and relaxed, about four years ago, the then 18-year-old was in the early stages of a pet project combining some of his favourite pastimes: technology and drugs.
"I thought, why not start one on Discord," he says from a computer room in the house.
Back then, there was a relatively limited market for online drug dealing platforms in New Zealand. Discord, an online platform similar to reddit, had been launched two years earlier for discussions on gaming by developers in the US.
Like other online communication platforms, users on Discord connect via private chats. A special ID is required and users have nicknames to remain anonymous. Chats dedicated to one topic involving a number of users are known as 'servers'. To enter a private server, users are normally required to answer specific questions and a page moderator must admit them. Different discussions known as 'text channels' also branch from a single topic.
In 2017, S0ck was a regular on both Discord and reddit. After participating in a discussion about the effect of weed strains on the reddit forum r/NZTrees, he decided to create a copycat version on Discord. That was the start of NZEnts - one of New Zealand's first online drug dealing platforms.
"For the first few weeks, there were 50 people on the server," S0cks says.
"No ID was required - it was really loose, just pictures of buds and plants.
"All of a sudden, someone asked if they could sell a 50 bag and I was thinking: 'Holy f**k this is kinda crazy'".
Over the next few years, NZEnts took off as a platform exclusively for cannabis. By the end of 2018, it had more than 200 members, mainly in Wellington. Several page administrators also helped run things, and further checks for users were implemented. Other servers were also set up for different kinds of drugs.
Eventually, it expanded to Auckland and Christchurch. By the end of 2019, more than 500 users were members. Even the infamous Wellington dispensary 'The Daktory', also known as 'DaktaGreen', was advertising its products on NZEnts. S0ck himself used it regularly to purchase cannabis.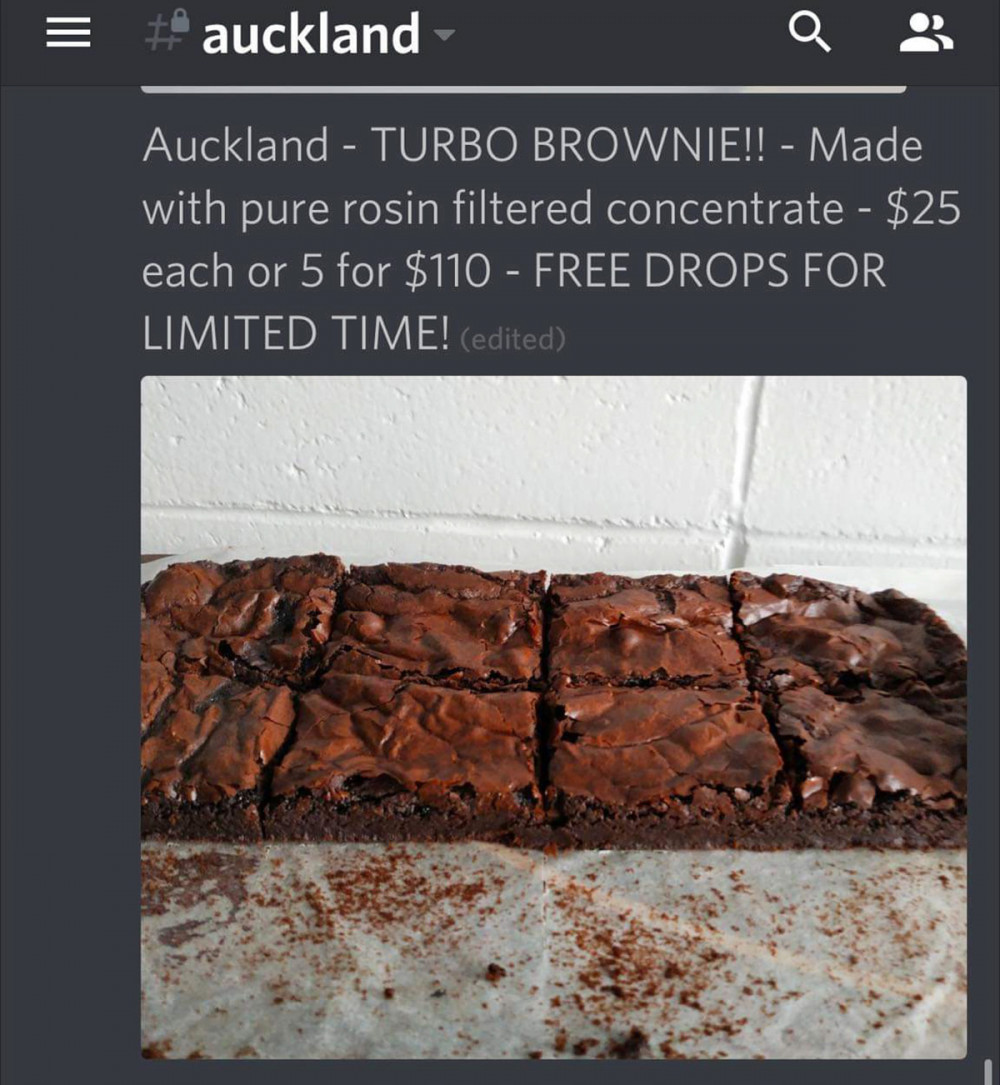 "It was amazing," S0ck says.
"It looked like an Uber delivery service for weed, which was safer than going to tinnie houses or dodgy hook ups at night.
"I was so proud of helping people get weed in a safer way."
Around this time, despite its success, S0ck also decided to step back from NZEnts.
"In early 2019, I did a big acid trip and contemplated the whole thing. I had a feeling I would get caught someday, so I called it quits.
"Then I gave the keys to the username Omega and quit the site for a solid six months."
S0ck says he never returned as an administrator, but checked on things occasionally. In line with other online drug dealing platforms, traffic on NZEnts peaked during Covid in 2020.
Robin van der Sanden, a researcher in online drug markets and Massey University Phd student, says last year's "boom" was connected to low market supply.
"The pandemic really influenced the accessibility of drugs, therefore people had to look for alternative online servers instead of their dealers who were running dry on supply," she says.
Like other illegal trading, online drug platforms also come with risks. S0ck and other online users are also aware of scams and deals gone wrong, as well as robberies and attacks. At the end of last year, Stuff also reported a spate of attacks linked to online drug dealing platforms.
Robin says her research shows violent incidents are more likely to occur on servers which lack strict verification procedures. Essentially, if it's easier to access, it's harder to control who gets in. Servers with "high barriers" have less risks, she says.
S0cks adds that NZEnts eventually implemented a three-month waiting period for dealers as one of its verification measures.
He found out in January this year the server had been deleted. While he hasn't been able to find out what happened, he is proud of its existence.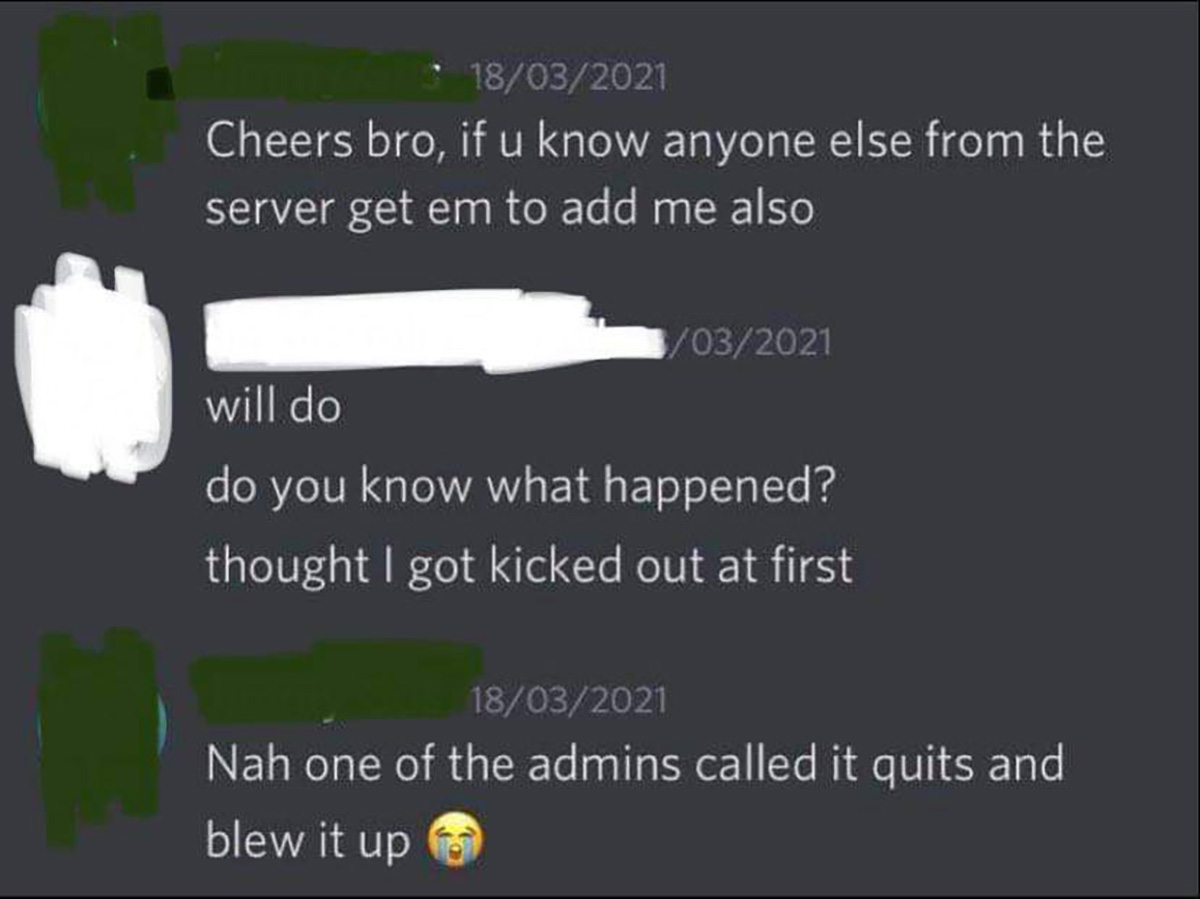 "All I wanted was to make a snobby hipster weed forum for stoner enthusiasts, but it became much bigger than I anticipated," he says.
When asked about Discord and illegal drug dealing, police would not comment on the platform directly. In a statement, a spokesperson said "organised criminals go where customers are", including on technology and social media platforms.
"For operational reasons police are not able to provide specific details on which platforms are used, or specific tactics criminals or police use," the spokesperson said.
Discord did not respond to requests for comment. A report from the platform showed it had 140 million active monthly users at the end of last year. It also highlighted significant user growth over the Covid-19 pandemic and platform safety-checks for users.
This story is part of Re:'s Drug Week. We're talking nangs, comedowns, decriminalisation and more.
Where to get help:
More stories: