By Maggie Shui
On a good night, dancing at a strip club feels extremely meditative for Katie.
There's a blissful alchemy that happens, she says, when the music's just right and "people's energies are good".
"I'll be feeling my body a lot more – not in a sexual sense, but a sort of spiritual sense."
Good nights look like customers engaging with the dancers, bringing an open and fun energy and, of course, tipping and paying for services.
But Katie, who is going by a pseudonym for her privacy, says that from her perspective it seems people are less willing to pay for these services than they used to be.
Katie has been a stripper for seven years and during this time, she's seen a "steady decrease over every given year" with the second lockdown prompting the biggest dip in paying customers.
Nikki, a stripper in Tāmaki Makaurau, joined the industry three years ago and says it seems clubs never fully recovered from that Covid era.
Her coworkers who'd been working longer told her they used to need brooms and buckets to pick up all the money.
"There were just so many tips, they couldn't even hold it in their bags. It isn't the crazy sort of nights it used to be."
Is tipping culture changing?
As strippers, Katie and Nikki make all their money from tips on the main floor and private dances where customers book them for a private room.
The club makes its income from the entry fee and drinks which strippers don't typically get a cut of.
Many clubs also take a percentage of strippers' earnings, a percentage that has increased over time.
So when a clubgoer comes just to have a drink and watch performances without tipping, the club can still make money from that customer's entry fee and drink. The dancer who's providing the entertainment typically gets nothing.
When workers this year challenged a new contract at Calendar Girls in Pōneke that reduced their share from 60% to 50%, they were swiftly let go.
This led to the formation of Fired Up Stilettos, a collective advocating for the rights of adult entertainment workers, and a reckoning with unjust working conditions and wage theft in the industry.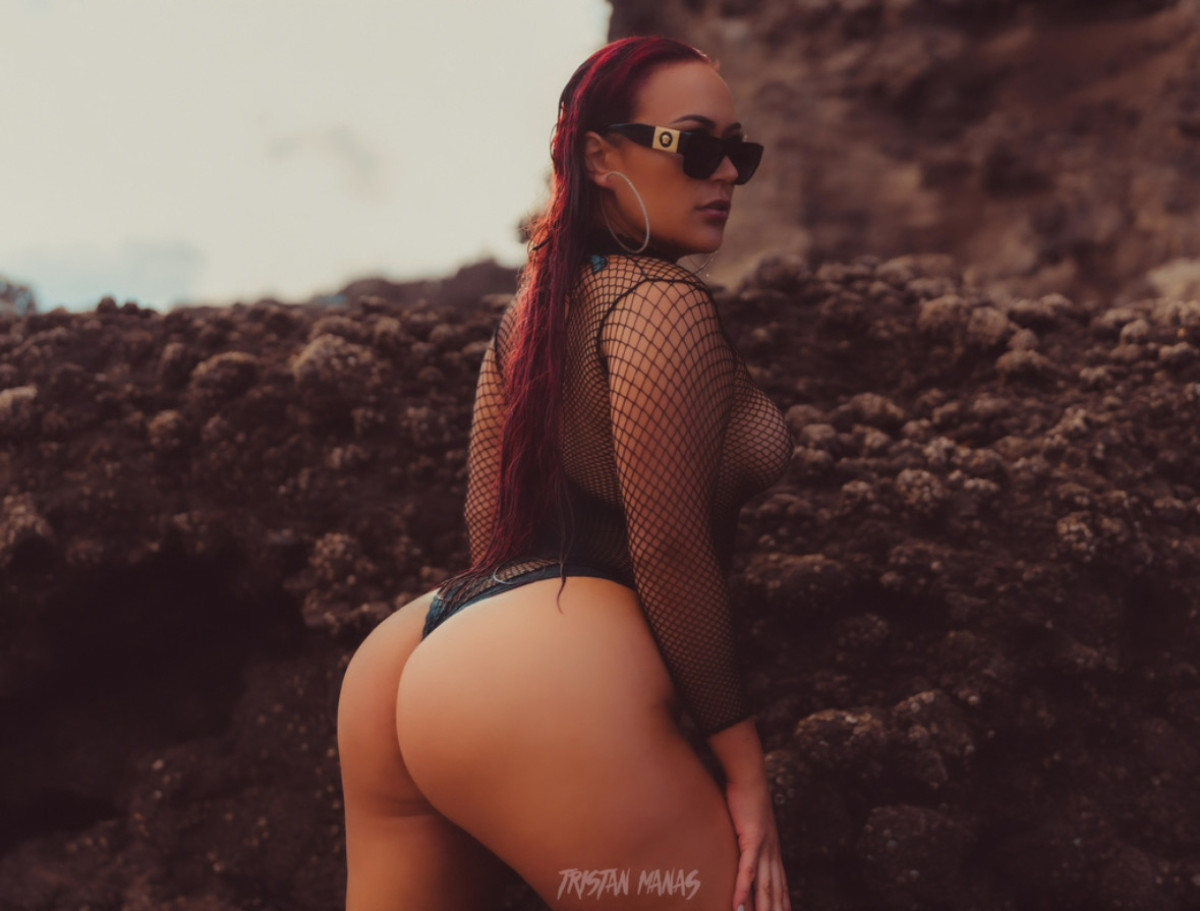 Nikki (photo: Tristan Manas)
Katie says it's become more common for her to see people at the club not tipping or booking a private dance.
Private dances now seem to be considered more of a "luxury" whereas they were once "part of the overall experience in the clubs", Katie says.
Nikki says it feels like "tipping culture has disappeared".
Sometimes it feels like "people taking the piss. They can come in for a drink and watch for free and kind of get away with it", she says.
Katie says that when this is the energy people are bringing to the club, it can leave workers like her feeling deflated.
"We're putting in work to try and provide the service that we're providing, and in turn have kind of been made to feel stupid for it."
Alana Winn, a stripper and adult film star, says when people aren't tipping or booking dances, it's because they don't understand "club etiquette".
"There are people who are regulars and they know how to have a good experience. They know they're going to have to be providing tips."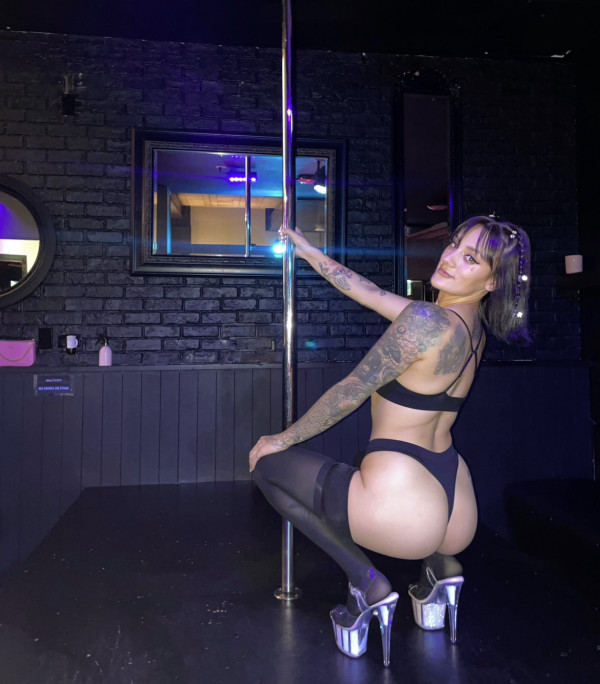 Alana Winn (photo: supplied)
Nikki says tipping is more common at the club she's currently working at compared to other clubs – and it's because management actively encourages people to withdraw tips when they pay their entry fee.
She suggests clubs could introduce a minimum amount customers need to withdraw for tipping to help set the standard for club etiquette.
Strippers are working for themselves
Nikki and her coworkers went into "survival mode" when Covid lockdowns left the industry struggling.
"I was like, okay, we've got to figure out a plan."
The situation encouraged Nikki to try private bookings like birthdays and stag-dos outside of the club.
A year ago, she started an Onlyfans and is now looking to further develop her online work.
Sex workers' rights activist Dame Catherine Healy says Covid accelerated the growth of the online adult entertainment space and resulted in more people "choosing to work individually, managing themselves, looking for different outlets".
However she says it can be tricky for strippers who are often dependent on clubs for business.
"It's a formula that has been around for a long, long time."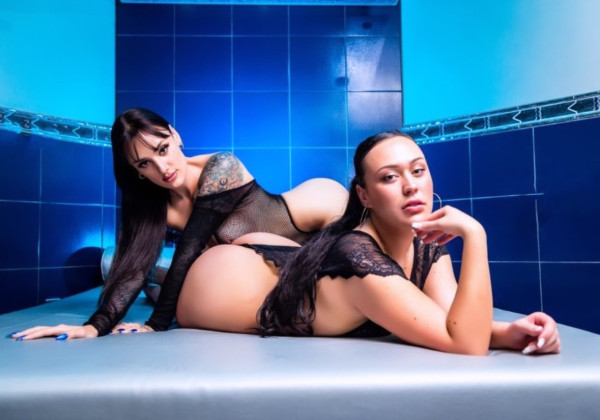 Alana and Nikki (photo: Mature Content Media)
While Nikki's pivot into private bookings came out of necessity, she says she now enjoys the control she has over her own work.
But securing the bookings can take a bit more hustle than working at the club where, despite there being quiet nights, people are coming to you.
However she says she likes the "freedom of not having to be in the club all night and cash out and give a cut to everybody".
"In an ideal world, if clubs were full and going crazy it'd be amazing to be able to turn up every weekend and get your bag, but we've had to adapt."
The future of strip clubs
Alana has had a successful three-year career so far working in clubs and online.
She hasn't experienced the downturn Katie and Nikki have observed.
Alana says there are parts of the strip club experience that will always be relevant.
"I think the people that come to clubs are the kind of people that like to go out often with their friends. They're the people that like to indulge in other things like alcohol and drugs.
"And there's never going to be a decline in those things. And so when these people are all together, they're wanting to celebrate."
And the strip club is a place to do that.
While Katie was considering dipping out of the industry at the start of the year, she's now found a club where she's making a comfortable living.
She got into stripping through her love of dance, and learning that she really excelled at performing.
For her, it's been a rewarding career that she hopes to continue.
"Being able to feel the energy of the room when I'm giving a good performance, it's not really about the money at that moment for me, but just having a really, really good time," she says.
"And over the years as my anxiety decreased around people, I found I love learning about people. I'm on the spectrum, so it's given me a lot of ability to understand people and grow myself."
More stories:
The internet has created a new autonomy and access to clients for sex workers.
"Honey is soft, Honey is sweet," and Honey is a performer at Bodyhaus, a collective of queer strippers.
"I think that's extremely illustrative of the discrimination that happens in the [rental] sector."