If you're not an essential worker, there's plenty of time to spare while we stay at home. Arwen Sommer talks to five Kiwis who are using this opportunity to hone their creative skills.
Lockdown has given me time to make a collage. It's made up of Calendar Girls tickets, my grandparents' old Christmas cards, and chopped up Frankie posters, and it's a monstrosity that now lives on our dining room wall. It was a cathartic experience on several levels.
Research has shown creativity has a profound impact on mental health and wellbeing. I talked to Kim Morton who runs Ōtautahi creative spaces, an arts and mental health organisation, about how creating art can help us cope with the stress of the pandemic. She says creativity restores a sense of control over our lives and a sense of hope for the future.
"Creativity is a way for us to express our thoughts and feelings. When times are difficult, when we're isolated in our homes, creativity is a way of providing some release. The actual process of creativity is something that we can get really absorbed in and shut off the things that worry and stress us out."
Kim says it's a great time to have a go and be resourceful. Instead of thinking you need sophisticated materials, just look at what's around you. If you want some inspiration to get started on your macaroni masterpiece, this is what five young creatives have been up to during lockdown.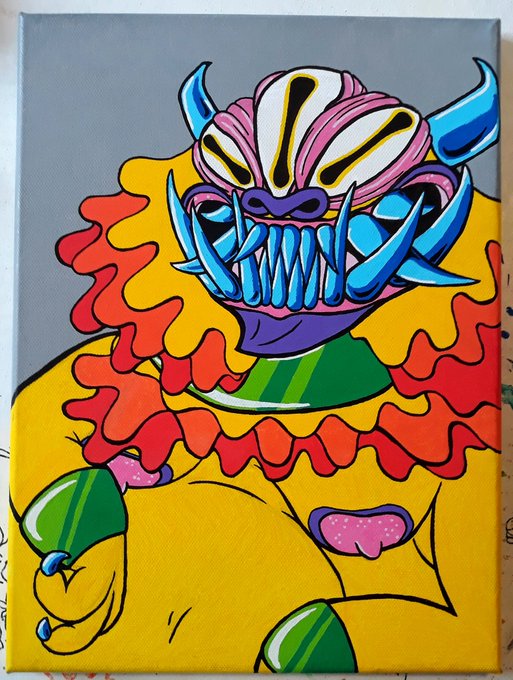 Lucas is a self-proclaimed "resident cryptid who steals moss out of your gutters when you're not looking". His hobbies include frogs, art and growing a lot of plants.
What are you creating during the lockdown?
I've been making a lot of drawings on canvases. Usually, I do digital art, but I was starting to find it boring. So I started doing art on MDF boards, they're like weird shitty wood. They were a little bit crusty, so ya boy bought a bunch of canvases on sale before lockdown. I've been drawing a lot of fun monsters.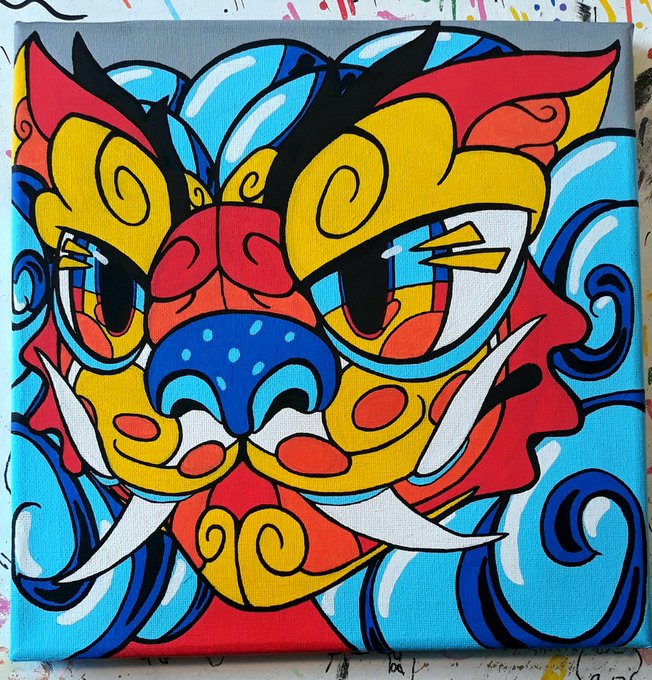 Is creating art helping with lockdown woes?
Coming into lockdown, I was worried I would get stuck in my own head because there's no one around and nothing to do. I was afraid that I'd get in a depressive wallow, but doing art has kept me out of that. It uses up so much of my concentration that there's no room for my brain to be like, 'hey, here's some sad shit'. It's been really fun to get lost in my magical brain art world and disconnect from the fact we're in this weird lockdown. Art has been an absolute saviour during the lockdown. I don't know what else I could possibly be doing.
Are you trying anything new?
I'm doing so much art at the moment it's pushing me to do new things. My brain is like, 'nah we already know how to do this, let's switch it up a little bit'. I've been trying more shapes and a lot more interesting characters than I otherwise would, and really playing around with colours. When I was doing digital art, I had full access to every colour you could possibly imagine, but now I have a set number of colours that I can use, and you can only combine them so many ways. It's really fun to figure out new colour combinations.
Are you worried about running out of materials?
Yes. Oh my god. I ran out last week, and I was so sad. I felt like a lost child for a while, just wandering around the house. Like when will my fucking pens return from the war. It's really tricky because I want to just make, and make, and make … But I need to slow down and make more detailed things so that I don't use up all of my supplies in a week because I have to wait for god knows how long for the next supplies to arrive.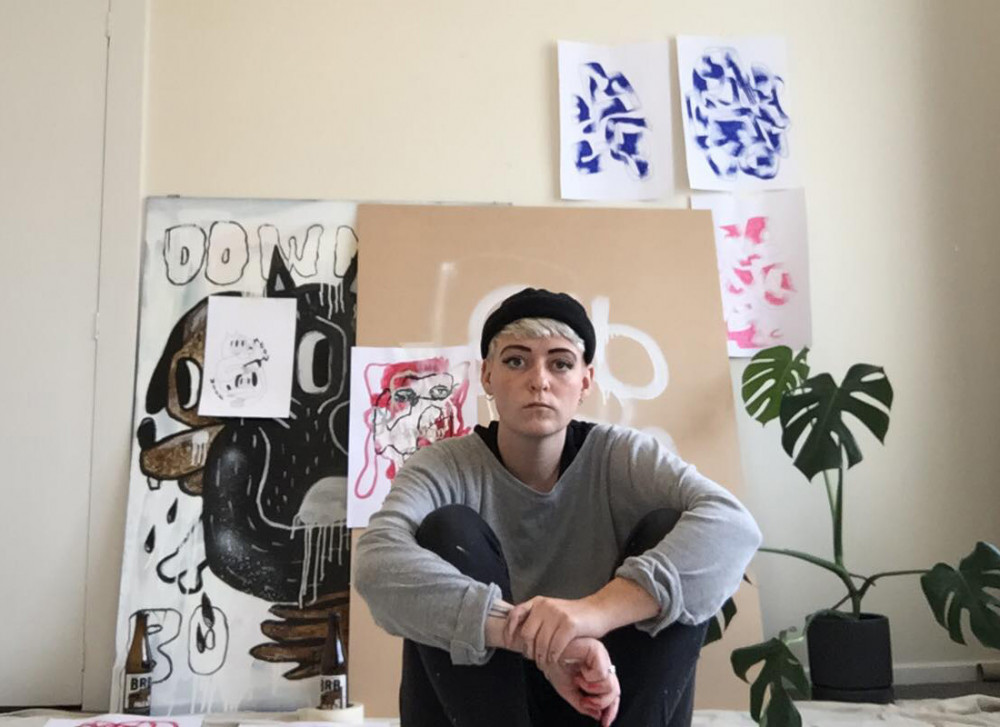 Annemieke's work is expressive, often featuring unsettling textures and challenging subject matter. Her recent exhibitions include group shows 'Contrast' and 'Gluttony' at Next Gallery, a self-titled solo show at Absolution, and a multi-medium project in collaboration with CoCA Gallery and other artists.
What are you creating during the lockdown?
Before lockdown, I was extremely frustrated with my art practice and didn't really know if I would even do anything coming into lockdown. I was experiencing such a block. Coming into lockdown, I started to put pressure on myself to finally sit down and have no excuses but to try. I wanted to experiment with new form and ideas I've had, but never been really able to execute.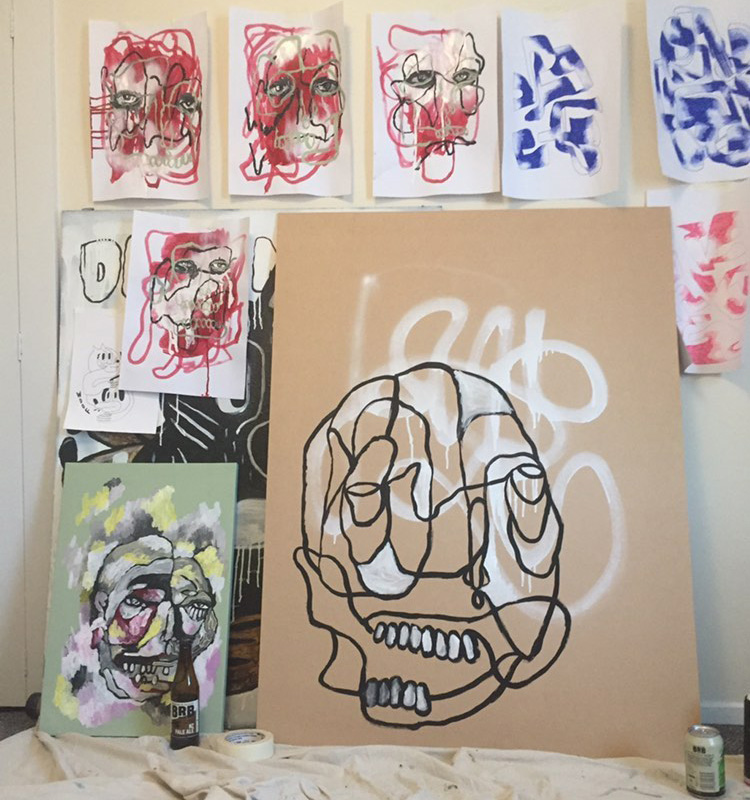 Is creating art helping with lockdown woes?
At first, I thought it would, but frankly, it probably made my lockdown woes worse. I felt good making art again and having the time to sit down and actually do it. But with that came huge pressure on myself, wanting to show everybody I could be productive and try to make art again on social media. We're our biggest critics, right? So being only surrounded by myself was pretty painful for my practice to be completely honest. It's really challenging not having human connection to support you as a person, to give you the confidence to not worry about things too much.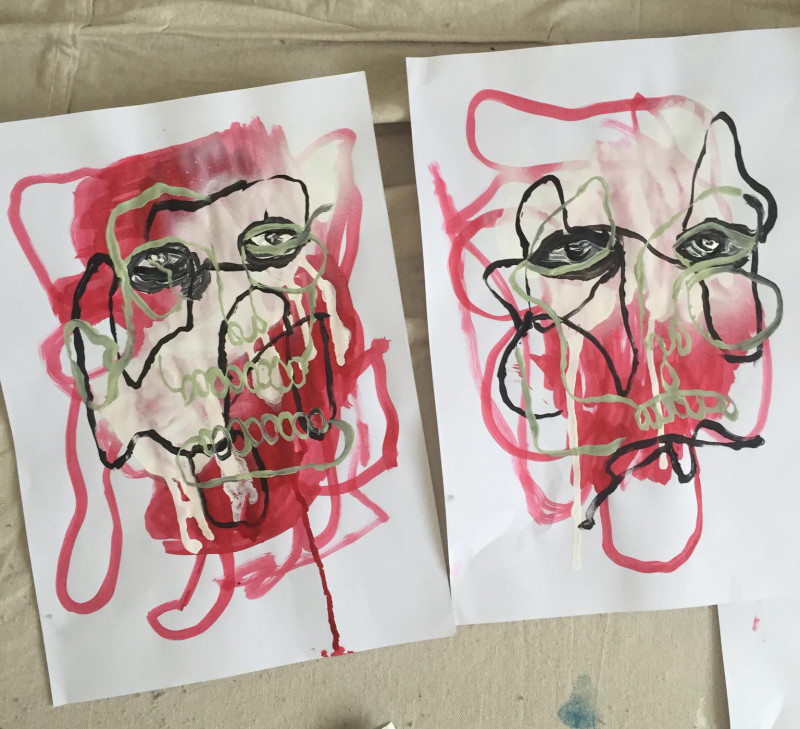 Are you trying anything new?
I definitely have time too. I wouldn't say it's going well. But I'm enjoying trying new approaches to my practice which I previously didn't have much time for.
Are you worried about running out of materials?
I was, and I did run out very quickly. But a couple of days ago, our local art shop started shipping products which was a huge relief. Not so good on my bank account and minimal money coming in but I really can't complain too much.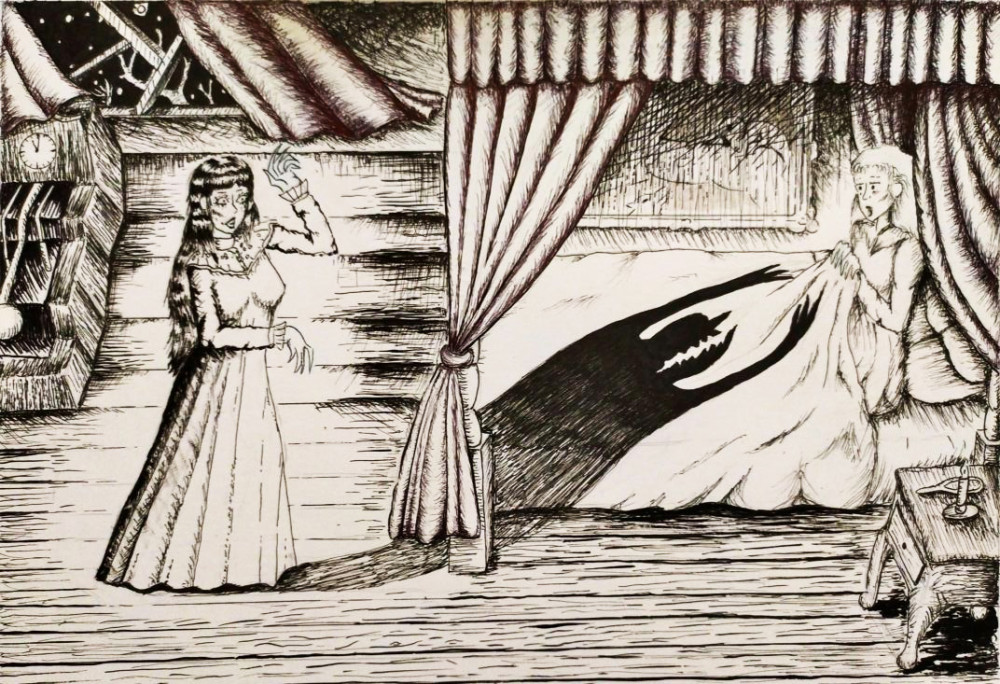 Kate is an Ara Polytech student, studying visual communication and design. They have previously studied creative writing at the University of Canterbury and Hagley Writers' Institute, in the hopes of narrating and illustrating comics and children's stories. They also make logos, record covers, poetry, and models for local businesses and artists.
What are you creating during the lockdown?
I've been making a comic book to help people with anxiety vote because it's just a scary thing for some people. I've also been making catastrophes, which are small comics about cats and isolation, which stemmed from my inability to pet cats. That's been really fun. I'm also working on an illustration of an old 19th-century book called Camilla.

Is creating art helping with lockdown woes?
For sure. It's very cathartic in a lot of ways, especially with the comic, because people are relating to how I'm feeling about things as well, which is really nice. But I think it shouldn't be your only standing leg. There are lots of other things you should probably be doing as well. You don't want to be doing a lot of work, being super productive, but not looking after yourself. I think there needs to be a bit of a balance, which I'm finding.
Are you trying anything new?
I've been trying to learn to draw hands, which is really good. I've been going through little tutorials that are on lynda.com, which is free to anyone who has a library card. They have lots of online tutorials for a bunch of different creative programmes and anatomy figure drawing.
Are you worried about running out of materials?
The lack of technology is a big thing. Previously I relied on my institution's technology for programmes like Adobe Photoshop. I don't have access to that now so I can't finish some of my stuff, which is annoying.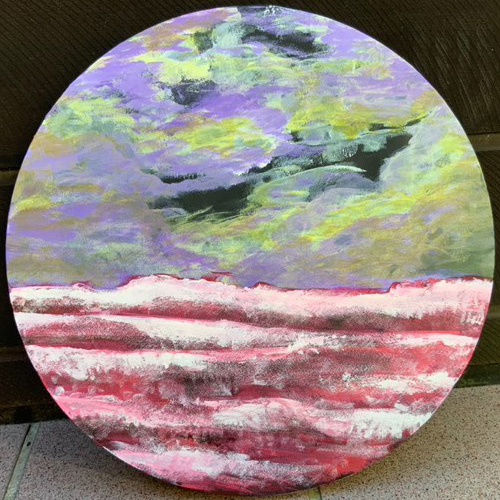 Jeremy
, 24, Ōtautahi
Jeremy is a full-time student. He came from working full-time in a terrible environment and wanted a diversion to be fully creative with his passions.
What are you creating during the lockdown?
I'm doing a lot of watercolour and pencil drawings. I'm wanting to focus on painting too, I'm giving that a go. I've got all the time in the world now.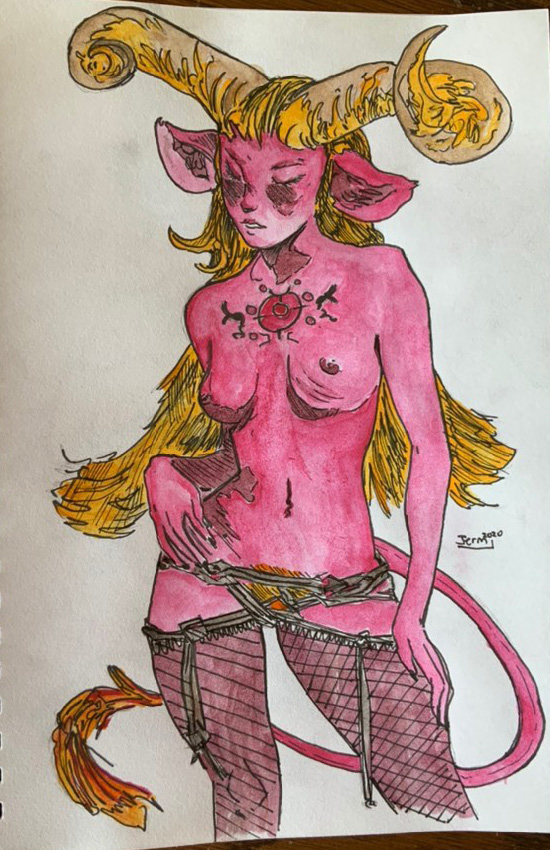 Is creating art helping with lockdown woes?
It certainly helps get me through the day without being bored, having that creative side again. Just being able to have fun drawing with my flatmates. I mean anyone's an artist, so it's just fun just seeing everyone else's level and having some fun together. I remember watching heaps of anime when I was younger, and I was like, 'man, I really want to draw like this'. It's just exciting because anyone can draw, a pot, and a pan, and a vase, but I think it's cool, creating really over-exaggerated characters.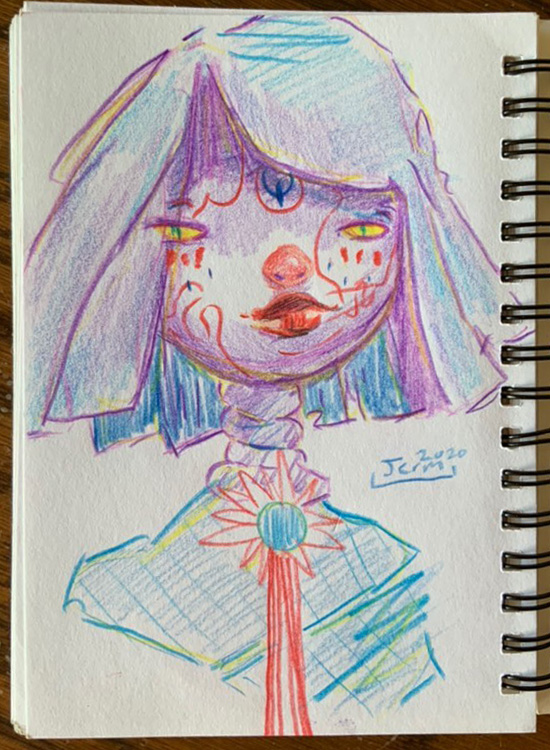 Are you trying anything new?
Painting is something that I've wanted to pick up because I like the patience behind it. I want to paint some landscape fantasy lands, but then add a catastrophe to it. Like a tsunami coming over a mountain, I love chaos when it comes to painting. It's just so new, and I love it.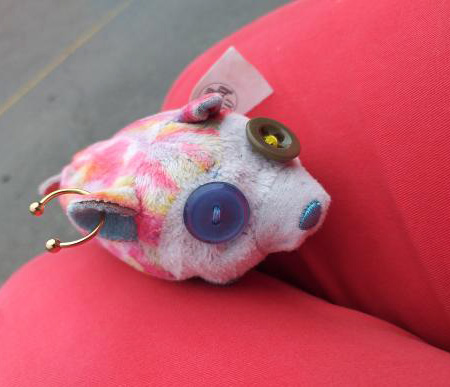 Andy
, 21, Whanganui-a-Tara
Andy is a crafting genius who is talented at using the resources around them. Most of their time is taken up by their obsession with plants.
What are you creating during the lockdown?
I'm doing a lot of knitting, bits of collage, and painting, especially using flowers that I've pressed myself. I count a lot of the stuff I do with gardening as art too.
Is creating art helping with lockdown woes?
Art helps with everything for me. It helps with my physical health and my mental health and is important to my overall wellbeing. It's probably been the most helpful thing to cope with lockdown and for coping with general disability stuff.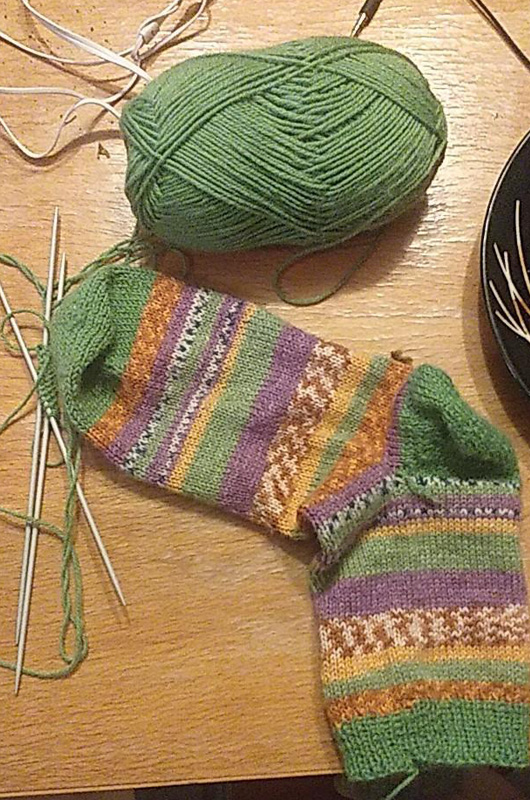 Are you trying anything new during the lockdown?
I've been trying more things in the kitchen that I wouldn't usually try. My partner is a baker, so I've been doing a lot more complex kitchen stuff with them, but as far as art I have been knitting and painting and pressing flowers as long as I can remember.