Saturday March 5
There are 18,833 new cases of Covid-19 today.
Sadly, a further five people with the virus have died. Of these, two were being cared for at North Shore Hospital, two at Middlemore Hospital and one at Auckland City Hospital.
Of these cases, there are 483 in Northland, 9,789 in Auckland, 1,575 in Waikato, 1,222 in Bay of Plenty , 459 in Lakes, 327 in Hawke's Bay, 417 in MidCentral, 95 in Whanganui, 264 in Taranaki, 153 in Tairāwhiti, 94 in Wairarapa, 1,308 in Capital and Coast, 576 in Hutt Valley, 258 in Nelson Marlborough, 1,170 in Canterbury, 57 in South Canterbury, 558 in Southern, 17 in West Coast and 11 in unknown locations.
There are 597 people in hospital, with 10 of those people in intensive care or high dependency units.
The average age of people currently in hospital is 52.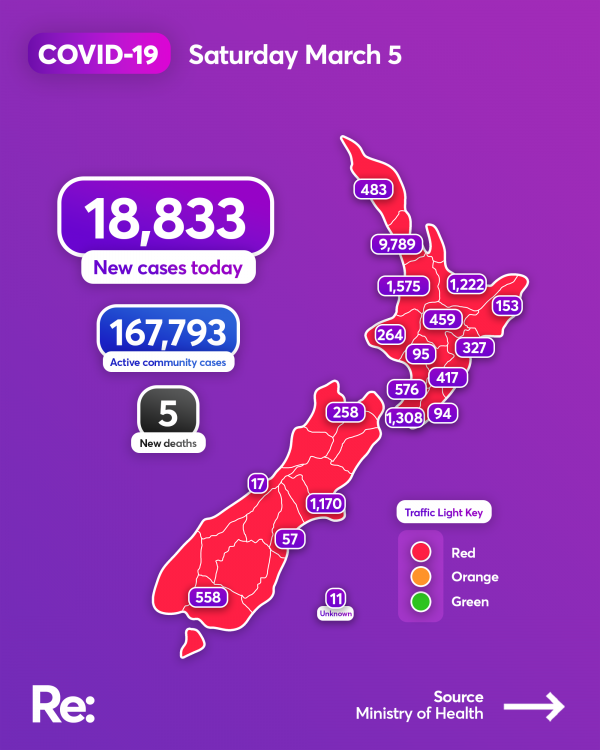 96.6 percent of New Zealand's eligible population have had the first dose of the Covid-19 vaccine, and 95.2 percent have had a second dose.
72.3 percent of the eligible population have had a booster shot.
There are 167,793 active community cases in total.
Rapid antigen test update:
The Ministry of Health has been made aware of people trying to walk through testing centre drive-thru's to collect RATs.
This is dangerous, and the Ministry would like to remind people to check Healthpoint for information about drive-through and walk-in community testing centres.
The Ministry are continuing to see a high demand for Rapid Antigen Tests and continues to assure people that they have good supply of tests.
With tens of thousands of people collecting RATs from testing centres and collection sites, a request from the Ministry is to please, be patient and kind to each other and staff.
If you are symptomatic or a household contact, you can order RATs through the newly launched RAT requester site. You, or someone of your behalf, can collect your RAT order from a collection site listed on Healthpoint. Please only go to those sites that are listed as collection sites.
An additional message from the Ministry of Health:
The priority for Covid-19 response for free RATs remains those who are symptomatic or a household contact. Please do not order or request RATs from testing centre or collections sites unless you are unwell or a household contact. International travel pre-departure testing is not covered under the public health response. If you are well, you can still purchase RATs from one of a growing number of retailers which stock them.
Click here for a list of updated locations of interest.
Top image: A woman with a plaster on her arm after getting the Covid-19 vaccine or booster. Photo: Luis Alvarez/Getty Images
More stories:
'Practise self love, get a properly insulated place': What I wish I knew before flatting
'Comically bad' NZ-made NFT scheme 'Pixelmon' sparks outrage
Two years in prison or $50,000 fine for 'revenge porn' offenders