Sunday March 27
There are 10,239 new cases of Covid-19 today.
Of these new cases, 382 are in Northland, 1,886 are in Auckland, 913 in Waikato, 617 in Bay of Plenty, 308 in Lakes, 541 in Hawke's Bay, 493 in MidCentral, 223 in Whanganui, 431 in Taranaki, 135 in Tairāwhiti, 105 in Wairarapa, 692 in Capital and Coast, 349 in Hutt Valley, 405 in Nelson Marlborough, 1,750 in Canterbury, 199 in South Canterbury, 772 in Southern, 36 in West Coast and 2 in unknown locations.
The total number of active cases is 114,261.
The Ministry of Health defines active cases as those identified in the last seven days and not yet classified as recovered.
Hospitalisations and Covid-19 related deaths
Four people with Covid-19 have died, bringing the total to date to 258.
Of these deaths we are reporting today, one person is from the Auckland region, two are from the Wellington region, and one is from the Otago Southland region.
One of these people was in their 80s, and three people were in their 90s.
Two were men and two were women.
The Ministry of Health reports on deaths of all people who die within 28 days of testing positive for Covid-19.
There are 848 people in hospital, with 28 of those people in intensive care or high dependency units.
The average age of people currently in hospital is 58.
Testing
2,225 PCR tests and 20,061 rapid antigen tests have been taken in the past 24 hours.
If you take a RAT you must report the result, positive or negative. This can be done online through My Covid Record, or by calling 0800 222 478 between 8am and 8pm.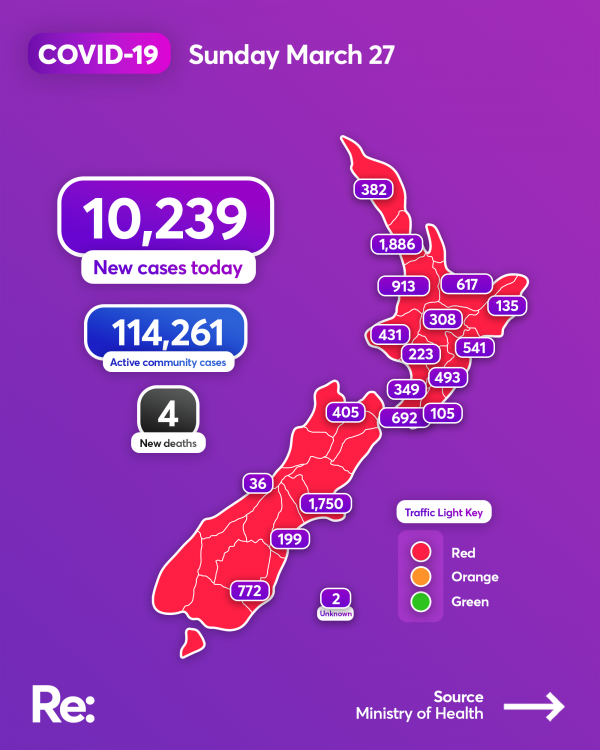 Vaccinations
96.3 percent of New Zealand's eligible population have had the first dose of the Covid-19 vaccine, and 95.1 percent have had a second dose.
72.6 of the eligible population have received a booster shot.
Top image: A lab technician looking into a microscope while wearing PPE. Photo: Morsa Images/Getty Images
More stories:
'I would rather die from poverty than ask for their help': Māori survivors of abuse in care share their experiences
What would happen if NZ decriminalised all drugs? We asked people on the street
Vaccine passes, scanning in and some mandates removed: Covid-19 changes