Saturday March 26
There are 14,175 new cases of Covid-19 today.
Of these new cases, 517 are in Northland, 2,652 are in Auckland, 1,305 in Waikato, 878 in Bay of Plenty, 392 in Lakes, 770 in Hawke's Bay, 707 in MidCentral, 322 in Whanganui, 513 in Taranaki, 196 in Tairāwhiti, 196 in Wairarapa, 869 in Capital and Coast, 474 in Hutt Valley, 599 in Nelson Marlborough, 2,402 in Canterbury, 215 in South Canterbury, 1101 in Southern, 52 in West Coast and 15 in unknown locations.
The total number of active cases is 118,592.
The Ministry of Health defines active cases as those identified in the last seven days and not yet classified as recovered.
Hospitalisations and Covid-19 related deaths
20 people with Covid-19 have died, bringing the total to date to 254.
The seven-day rolling average of reported deaths is 13.
Of these deaths reported today, one person is from Northland, six people are from the Auckland region, five are from Waikato, one is from Bay of Plenty, one is from Tairāwhiti, one is from Hawke's Bay, two are from in Mid Central, one is from the Wellington region, and one is from Nelson Marlborough.
One of these people one was in their 40s, one was in their 50s, three people were in their 60s, five people were in their 70s, six people were in their 80s, and three people were in their 90s.
Twelve were men and seven were women.
The Ministry of Health reports on deaths of all people who die within 28 days of testing positive for Covid-19.
*Please note the Ministry has reported 20 deaths, however these numbers add to 19.
There are 841 people in hospital, with 27 of those people in intensive care or high dependency units.
The average age of people currently in hospital is 58.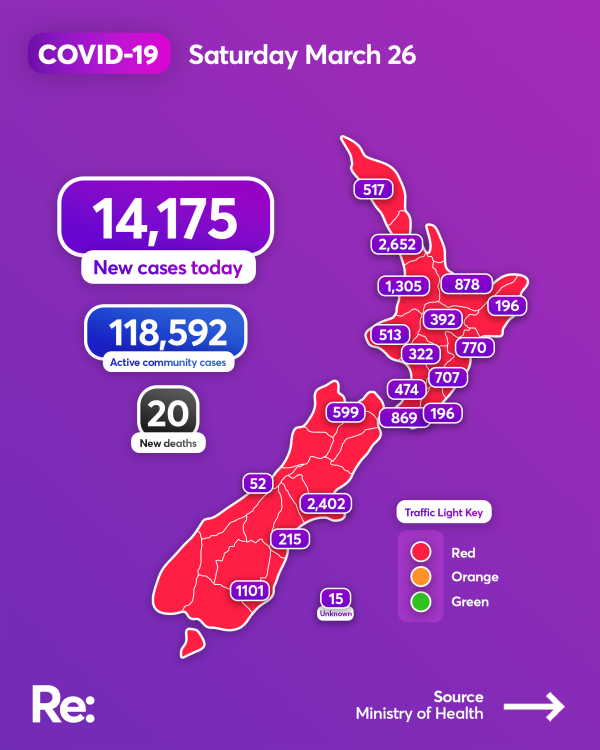 Testing
There were 3,072 PCR tests taken in the past 24 hours.
29,502 RATs were taken in the past 24 hours also.
If you take a RAT you must report the result, positive or negative. This can be done online through My Covid Record, or by calling 0800 222 478 between 8am and 8pm.
Vaccinations
96.3 percent of New Zealand's eligible population have had the first dose of the Covid-19 vaccine, and 95.1 percent have had a second dose.
72.6 percent of the eligible population have now had a booster shot.
Top image: A protective surgical mask hanging from a car mirror. Photo: Janice Chen/iStock Images
More stories:
Male contraceptive pill 99 percent effective in mice trial
New Zealand to resettle 150 refugees a year from Australia
A 'disturbing portion' of NZers think they can land a plane from watching one video: new study