More than a month's worth of rain fell in about 10 hours in Auckland overnight, according to NIWA.
It's normal for Auckland to have around 85 to 90 millimetres of rain in one month.
But 109mm fell just in the 10 hours between midnight and 10am this morning in Albany, on the North Shore.
Western Springs recorded 91mm and Mangere 93mm.
NIWA says the Albany climate station had its wettest hour on record, with 76.8mm falling in the one hour between 8 to 9am.
They believe this is the second-wettest hour on record in the Auckland region, with the record being 100.6mm at Auckland/Whenuapai in February 1966.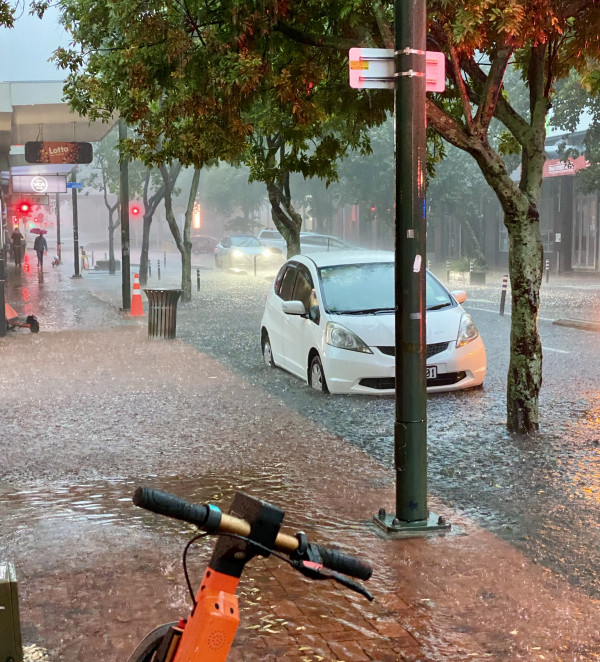 Surface flooding in Auckand's Viaduct Harbour. Photo: NIWA

More than 4000 lightning strikes happened in one hour in Auckland and the lower North Island, with more than 700 strikes in a five-minute period around 8am.
There was also surface flooding across the region.
Three lanes were blocked on the SH1 Southern Motorway around 10am this morning. The flooding cleared by midday.
By late morning the heavy rain and lightning strikes had decreased, and flooding had drained from many areas.
Top image: Cars swamped by floodwaters in Auckland (Source: 1News)
More stories:
A weather expert explains how severe floods are linked to climate change
Breaking down the huge UN new climate change report: it's grim
We can't keep treating indigenous knowledge as a backup plan