Friday May 27
Director-General of Health Ashley Bloomfield has tested positive for Covid-19 while attending the World Health Assembly in Geneva, Switzerland.
He is now self-isolating in Geneva and is experiencing mild symptoms. This means his return to Aotearoa will be delayed.
There are 6,862 new cases of Covid-19 today.
Of these, 234 are in Northland, 2,292 are in Auckland, 505 in Waikato, 193 in Bay of Plenty, 104 in the Lakes district, 155 in Hawke's Bay, 214 in MidCentral, 79 in Whanganui, 198 in Taranaki, 30 in Tairāwhiti, 57 in Wairarapa, 543 in Capital and Coast, 203 in Hutt Valley, 283 in Nelson Marlborough, 1,078 in Canterbury, 148 in South Canterbury, 484 in the Southern district, 60 in the West Coast and 2 in unknown locations.
The total number of active cases is 48,706.
The Ministry of Health defines active cases as those identified in the last seven days and not yet classified as recovered.
Hospitalisations and Covid-19 related deaths
25 people with Covid-19 have died, bringing the publicly reported total to date to 1,127.
Of the people whose deaths were reported today, five were from the Auckland region, three were from Northland, one was from Waikato, one was from Hawkes Bay, nine were from Canterbury, two were from the Wellington region, one was from Midcentral, one was from Bay of Plenty, and two were from Southern.
One person was in their 30s, three people were their 40s, four in their 50s, two people were in their 60s, four were in their 70s, six were in their 80s, and five were aged over 90.
There are 350 people in hospital, with 10 of those people in intensive care or high dependency units.
The average age of people currently in hospital is 59.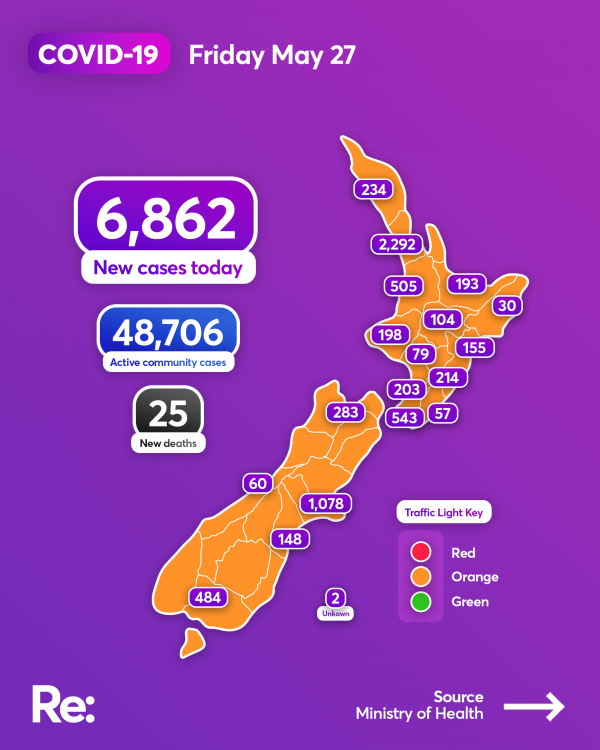 Testing
In the last 24 hours, the number of PCR tests administered was 3,365 and 14,198 Rapid Antigen Tests (RATs) were reported.
If you take a RAT you must report the result, positive or negative. This can be done online through My Covid Record, or by calling 0800 222 478 between 8am and 8pm.
Vaccinations
96.3% of New Zealand's eligible population have had the first dose of the Covid-19 vaccine, and 95.2% have had a second dose.
70.6% have had a booster shot.
Top image: Director-General of Health Dr Ashley Bloomfield speaks to the media at a conference earlier this year. (File photo) Photo: Getty Images
More stories:
Growing up trans in rural NZ: My first school ball
I'm intersex and I wish doctors had left my body alone