It's been three years since the Christchurch terror attacks and three years since Sana Ditta's father was injured but survived the shootings.
Sana reflects on whether there has been change since then and shares her perspective on what Aotearoa needs to do to become more equitable and representative of all who live here.
Racism is still evident in New Zealand - increasingly and unforgivingly.
I always ask myself, should I really care about someone else's unsolicited opinion about me and my faith? My culture?
But how can I not, when I have lost my loved ones to an act of terrorism?
How can I not after seeing the long lasting physical and psychological effects on my father who has endured surgery after surgery?
The March 15 terror attacks in 2019 was an attack fuelled by hate, rage and racism.
Three years on, nothing has really changed.
The abundance of aroha showered on Muslims on that dark day was evident across Aotearoa and was accepted with so much gratitude.
I remember waiting in the hospital and being approached by complete strangers who gave me cards, flowers and artwork.
And again, after the sentencing as we cried into strangers' arms, I was comforted by three, simple words: We are one.
That sentiment was huge and felt all across the world.
But was it short-lived? I don't know if I can proudly say much has happened since.
Have our mindsets shifted when it comes to racism?
If that's the case, then why is it that some Muslims still feel unaccepted, still feel like a minority, and at times, are completely 'otherised'?
Why are we still scared that something like March 15 might happen again?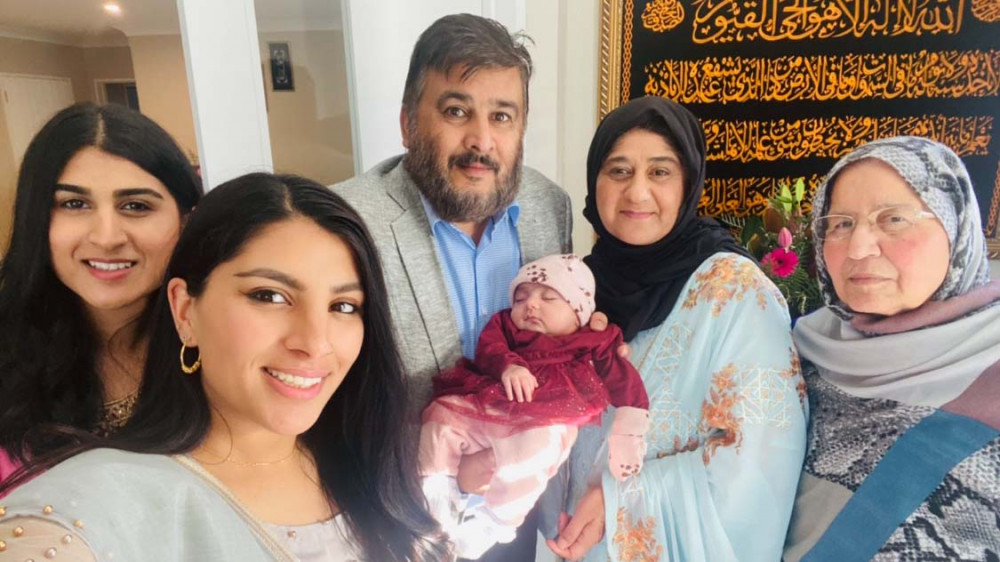 Sana Ditta (left) with her sister Zahra (front left), Dad holding Sana's niece (centre), next to her Mum and Grandma (right) (Photo: Supplied)
The racism I see is one that's subconscious. There are preconceived notions and ideas people have about others.
Of course, this stems from lack of awareness and education. Or maybe ignorance.
All you have to do is turn to the news and see the stereotypes the media are feeding us.
Like everyone, I have been horrified and dumbstruck by the heartbreaking news coming out of Ukraine. But the western coverage of the Ukraine war has been criticised.
It highlights hypocrisy and subliminal racism people have wired in them.
In an interview, Ukraine's former deputy general prosecutor David Sakvarelidze said the situation in Ukraine was "very emotional for me because I see European people with blue eyes and blonde hair being killed".
Those comments are unacceptable.
People escaping Ukraine are seen as "civilised" from "normal backgrounds" who should not have to flee their home country.
But war is continuing to be normalised in the East. Why?
As Trevor Noah, host of The Daily Show, recently stated, a refugee is not a synonym for brown person.
All refugees deserve safety and dignity regardless of their skin colour or faith.
The recent attack in Otago where a young student's hijab was pulled off had people questioning all over again if New Zealand has really changed its ways.
Of course, the actions of a few people do not represent the whole country.
However, the action of one person really is enough to make us feel unsafe all over again.
I remember the frustrations I felt when I went back to work after March 15 and throughout my teaching journey.
I was approached by fellow teachers who said "Sana, I have a Muslim in my class. How do I support them?" or "maybe they could spend some time with you?"
I knew it came from a genuine place of just wanting to support the students.
But I think all teachers should know how to do that.
I felt the extra weight and constantly thought, 'how am I meant to support them and help them understand this, when I can't even understand it myself?'
All I really wanted to say was that it's not my job to do the learning for you. That's exhausting.
If you carry white privilege and truly want to be an ally, you must do the work and challenge your own assumptions.
I remember a situation on Sumner beach in Ōtautahi when a child asked her mum why a stranger walked "so funny".
From previous experience and working with children, I know that they are naturally curious so they ask these types of questions.
I remember thinking what will the mum say? What do parents do when children ask questions loud enough for a person who is different from them to hear?
She told her child to shush.
What message does that send? Not only do they learn that they cannot talk about it but a deeper message is sent to them.
That it's not okay to be different.
Imagine if the mum hadn't shushed the child but used that as a learning tool to teach them that we are all different - but that doesn't mean we should treat each other differently.
It reminded me how quick we are to shut down conversations when it is difficult or uncomfortable.
Sometimes we are so scared of saying the wrong thing that we end up saying nothing.
I have a class of beautiful, bright, energetic, multicultural seven-to-nine year olds and we make it a point to have these discussions.
This is crucial before they go out into the big wide world.
Some of the questions and experiences they share are incredible and a reminder that we should never underestimate children.
They surprise us in many ways.
Imagine if it didn't take tragedies for us to be reminded that we are all equal and should all be treated equally.
We need everybody on every level working together to address cultural, structural and systematic change.
That includes people in positions of power - whether that's as an education leader, government leader or community leader to dismantle the system of oppression that has hurt many for so many years.
It is going to be the knowledge and experience that exists in marginalised and silenced groups that will lead the country to taking necessary steps for a more equitable Aotearoa that represents more than one group.
You might be thinking that you are part of the problem but remember you are also part of the solution.
There is great power in that.
Sana Ditta was born and raised in Christchurch. Sana currently works as a primary school teacher and hopes to help enable a more equitable Aotearoa, especially in the education sector.
More stories:
'Forgiveness is not a tidy grave': A journey through loss, hope and healing
'Don't put your arse where you eat': tikanga explained
Young Kiwi-Muslims on how Eid celebrations help build identity