By Robin Kerr
The new animated show Tales of Nai Nai needed over 400 mouth shapes to be digitally drawn, and most of them appear on their characters face for just a millisecond. But it's no sweat for a team telling a story they believe so passionately in. Robin Kerr visited Mukpuddy, Aotearoa's leading 2-D animation studio to find out how they made a brand new show for Kiwi Asian kids.
A small miracle nestled in Auckland's Nugent Street, with its unassuming industrial frontage, entering Mukpuddy Animation studios is like diving into a world of colour.
Posters and artwork cover the walls, nerf guns and their ammo are littered everywhere, games consoles and ping-pong tables clutter the break room, but it's the toys that are most striking - plush toys and figurines cover almost every surface. Each animator seems to have a small army of colourful dolls surrounding their computers, guarding them while they work intently on the studio's next shows.
"We can make something that looks like it's from Disney or Nickeloden or Cartoon Network but has a New Zealand voice."
Co-founder Ryan Cooper takes a momentary mid-edit break to tell me about how this animation outfit first found its feet in 2002 in a South Auckland garage, and from there, worked long and hard to prove that online cartoons could be a success. Cutting their teeth through a regular segment on What Now, they've since made their own shows such as Barefoot Bandits that have been a hit both here and overseas. But it's their latest piece Tales of Nai Nai currently screening on HEIHEI that I'm here to talk about.
Before I chatted to other members of his team, I asked Ryan to give me an overview of how the baton is passed from one department to another in order to make an animated episode.
Based on an original idea by Chye-Ling Huang, Tales of Nai Nai emerged from a brainstorm run by the Pan-Asian Screen Collective, aiming to come up with onscreen stories catered to Kiwi Asian kids.
Becky Kuek brought the idea to Mukpuddy and says that the studio were on board from the beginning.
"Tales of Nai Nai is a magical, silly, funny, love filled show."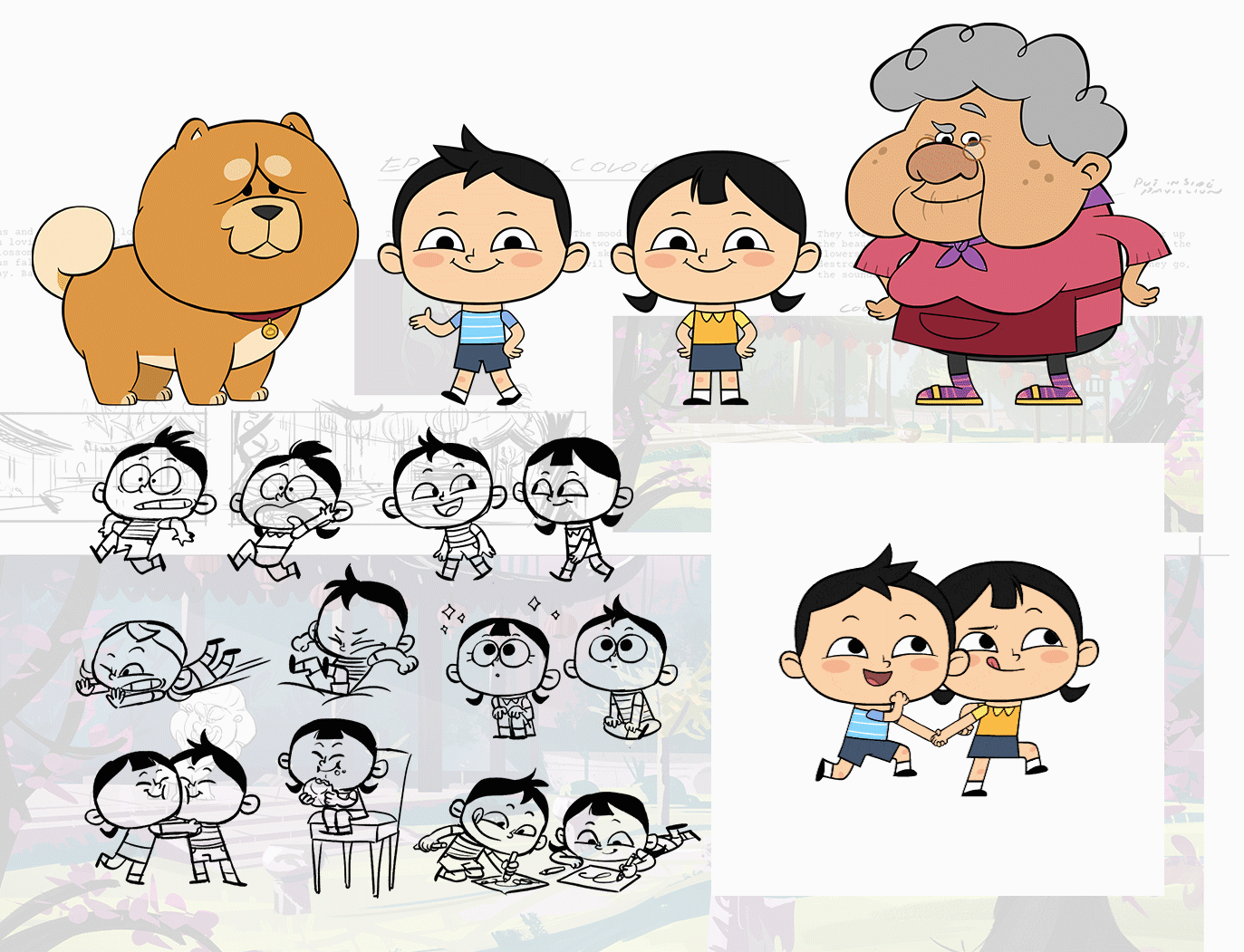 Becky Kuek is the show's showrunner / director / writer / producer / voice actor and animatic editor. As well as the many late nights that her convoluted job title implies, it's clear from her enthusiasm how much this show means to her.
"Seeing all the parts come together, the amazing artwork, everything that everyone contributes, it's inspiring, I just feel so grateful to be working with such talented and passionate people."
Her Asian heritage has been a big driver for her, getting to tell stories that she never saw onscreen when she was a kid. To honour that task she assembled a team, largely made up of other Asian women.
She mentions having to challenge the team's unconscious reflex to paint the female characters with large lashes and in dainty poses. The two twins at the core of the show share equal screen time, and the character of Maggie shows a bit more nous for solving problems than her twin brother Michael.

Becky describes how an artist had came up with a now-nixed design for a rather voluptuous panda. She jokes that there aren't too many 4 year olds demanding that the animal characters show-off tits and ass.
It's a sensitive approach that's been a unifying factor for the team, taking inspiration from Asian folk art and folklore to build their world, as well as from family anecdotes for much of the show's humour.
The writing and voice acting lineup is a who's who of young Asian creatives. Madeleine Sami voices the queen of Rang Ka Shahar, and Mulan stars Yoson An and Xana Tang both feature. I catch Xana in the recording booth as she records a few lines for Maggie, one of the two twins who are the stars of the show. Xana tells me:
"It's really important to have shows like this, especially made here in New Zealand, and when the characters are very diverse. Growing up I never had any of that."
I'm then lead down to meet art director Anna Lee in her design cave. Curtains closed but festooned with fairy lights, Anna is a softly spoken woman with fantasy at her fingertips. It's her digitally drawn designs that form the basis for a lot of what you see on screen.
"Once we got the pitch together one of the first steps was to flesh out the world and the story. We had a little workshop where we all threw in ideas. It was nice to sit around a table and have all these different people from different Asian cultures. We took a little bit from each and created the outlines for the stories," Anna tells me.
"As a character designer I could then visualise it."
I run into Joanne Teo in the kitchen as she dishes out slices of homemade cheesecake. While most of the animators at Mukpuddy are camera shy, Joanne is boisterous. Back at her desk she takes me through the painstaking job of syncing up the actors' voices with an array of mouth shapes she can select from. It seems like an infuriatingly finicky job, especially when the lip movements strobe past the screen when you play the scene down - but it's a job she loves.
It's the opportunity to craft visual gags in her scenes that does it for her. One such example sees the twins leaping in the air to jump inside their grandma's purse, a key moment at the start of every episode before they enter an imaginary world.

But in this episode their grandma Nai Nai interrupts them mid jump for a last minute lecture - this sees the twins freeze for a moment mid air to the sound of screeching tyres. They hang suspended, rolling their eyes until she's done, before gravity kicks in again and they leap on in to their next adventure.
It's gags like this that make it worth it. Imagining the impossible and then bringing it to life.
A few weeks after my studio visit I joined the team for a cast and crew screening of some of the show's finished episodes at The Capitol Cinema. Afterwards actor and writer James Roque chatted with me on the stairs, he'd starred in one episode as a sea cow who takes out his teen angst by punching at waves. He'd drawn on his Filipino heritage to write that episode, set somewhere underwater near one of the Philippines' 7000 islands. As we walk outside he says:
"I wish I'd had a show like this when I was a kid."