Teen punks Sit Down In Front's music will be ringing out across New Zealand with the release of their album Confessions Of A Pie Thief. The Gisborne band formed in 2017 as a bunch of childhood mates and they are all still in high school now. They're made up of 16-year-olds Cory Newman (singer and lyricist), Jackson Clarke (guitar) and Rikki Noble (drums), and 14-year-old bassist Roman Benson.
Sit Down In Front's new music video First World Problems was inspired by hearing people complain about small problems. Cory says he had a few laughs writing it. "It was actually a lot of fun researching what some examples of first world problems are. You would not believe some of the things some people would write about."
We all have more significant problems than bad haircuts and slow wifi, says Cory, but he never imagined they'd have it timed around Covid-19. The lyrics talk about privileged people who get upset about small problems which really don't matter at all, "Born with a silver spoon in my mouth, my behaviour just went south".
Cory came up with the band's name at an AC/DC concert, the first gig he ever went to. He uses a wheelchair and wasn't able to see the stage. "There were a few clowns in the row in front of us blocking people's view, and I heard someone yell, hey you, sit down in front. So I figured it would be a good name for a rock band." It was at this concert that he first thought it would be cool to be in a rock and roll band and before long that dream was a reality.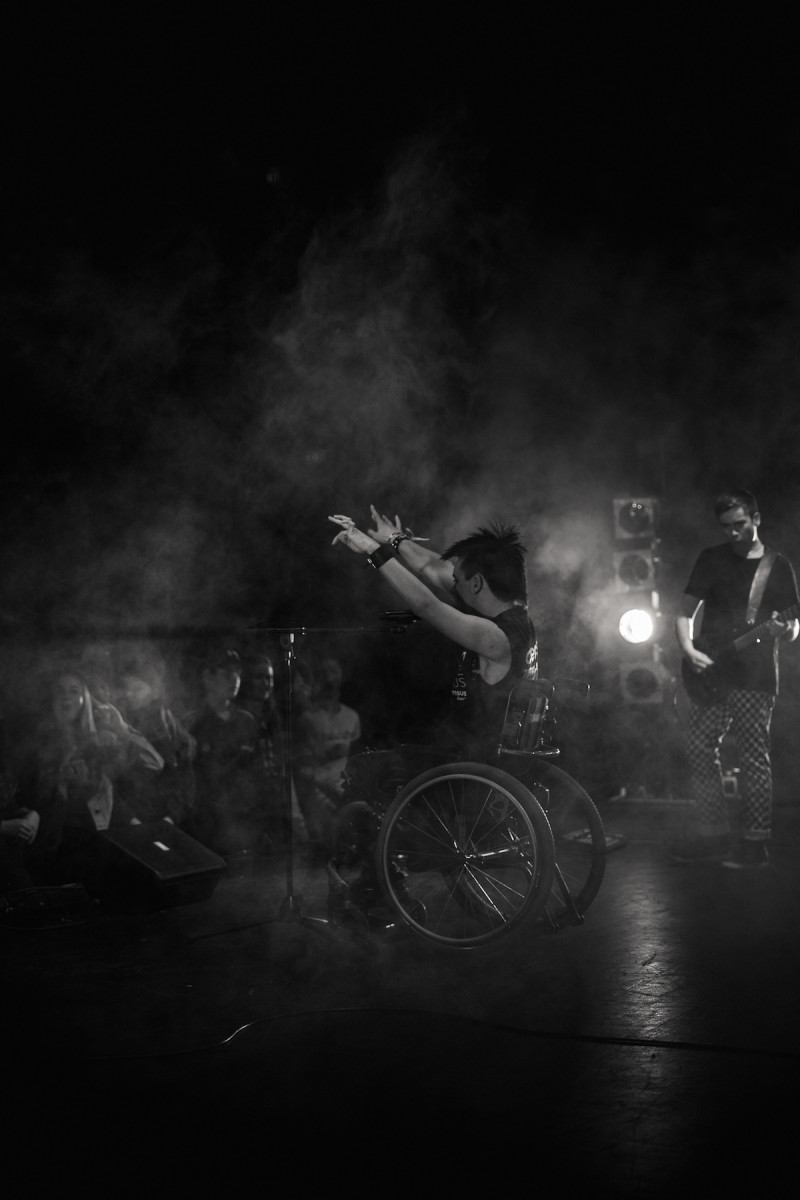 For Cory, modern punk is about championing causes and injustices and "just writing about irreverent stuff that we observe in the world around us". He wants to buck the trend that all rock songs are about love or politics or drugs or all three at once.
And even though they play old fashioned punk, they're influenced by so much more. Their drummer likes rap and classical music. Cory likes rock and roll bands and has a serious soft spot for Australian pub rock.
He says being in a band in Gisborne is a pretty cool experience. "It's a small, tight-knit community where it's really easy to get support." When they had a fundraising quiz night for the album, local businesses donated prizes and raised about $15,000. Cory says that's the advantage of living in a small town, and they feel fortunate for it.
Most of the crowds at their Gisborne pub gigs are people in their 40s and 50s who let loose like they're young again. "We love crowds like that. We've had young crowds when we opened for The Chats in Wellington, they were all really young guys, and they all just went nuts too in their own way."
They're trying to promote the album to keep the ball rolling after some of the disruptions caused by Covid-19. But it's too soon to tell what the future will be when they finish high school. "We've seen a few local bands that only seem to reunite in the holidays because all the members have gone to universities in different towns across the country."
"Fingers crossed we stay together."