This time last year, we were days away from entering a nationwide lockdown. One year on, we asked the Re: team and some friends to reflect on what those last days of freedom were like, and how we've changed since.
In the first few weeks of 2020, Covid was a blip on the radar of most New Zealanders. By the end of February, however, we had our first confirmed case in the country and things seemed to escalate by the day. On the 21st March, the government announced the alert level system we're now familiar with and we moved into Level 2.
And four days later, we entered Alert Level 4, a nationwide lockdown. It was, to use one of our favourite words of 2020, unprecedented.
It's now been a year since that tumultuous time. We asked the Re: team and some friends to scroll back through their camera roll, and share what they were up to and how they were feeling on their last days of freedom.
Liam van Eeden, Multimedia Journalist at Re:
Date: 25 March, day we entered lockdown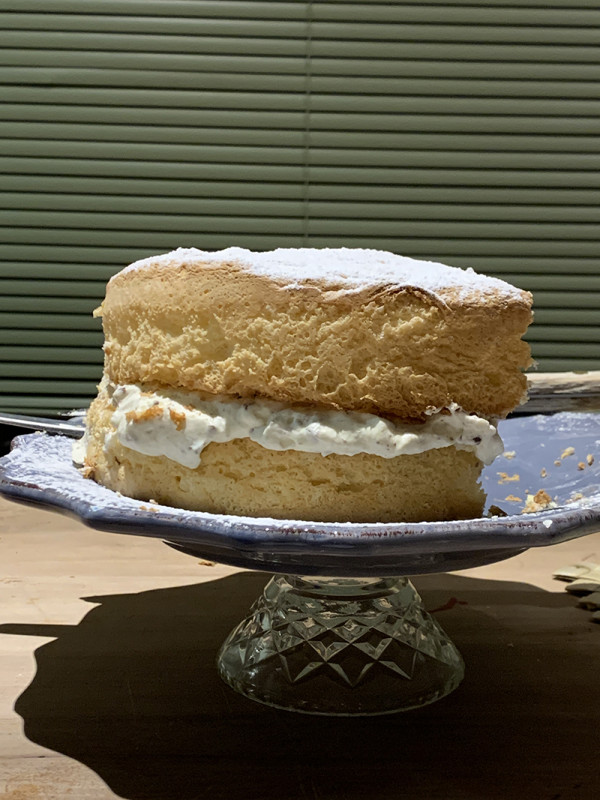 The day we entered lockdown I was meant to graduate. This is a photo of the cake my Mum made me in lieu of celebrating with my friends. She made her iconic homemade sponge with Whittaker's chocolate flakes - maybe not as exciting as a big day of celebrations, but definitely just as delicious.
Although the cancellation of grad was disappointing, it felt insignificant at the time given the overwhelming feeling of turmoil and uncertainty.
My graduation was rescheduled to later in the year but was cancelled again due to the second Auckland lockdown. I still haven't officially graduated. My friends and I have since made our own celebrations and I feel satisfied with that.
Zoe Madden-Smith, Multimedia Journalist at Re:
Date: 22 March, three days before we entered lockdown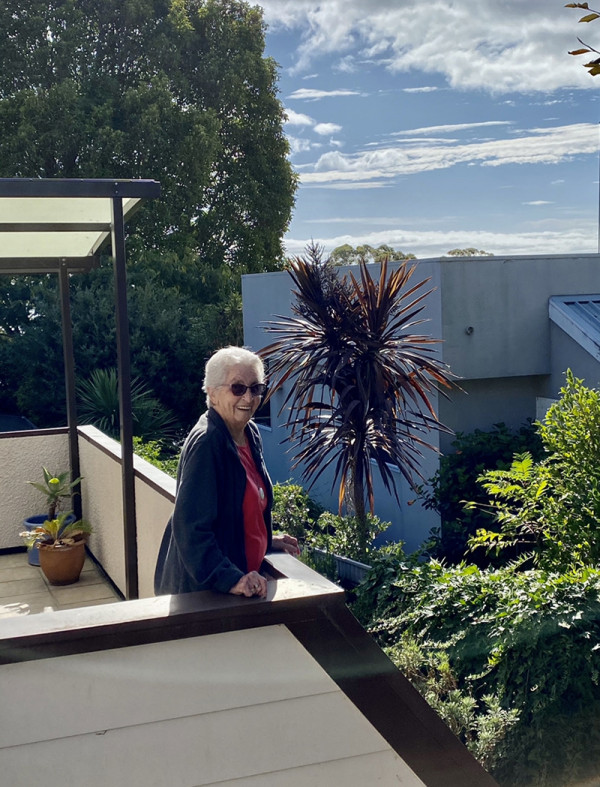 When the first level two lockdown was announced it felt a bit surreal. I remember the first thing I did was drive to the art shop down the road and spent far too much money on paints, paintbrushes and notepads (most of which I never used). I never really felt too panicked about lockdown. Fortunately my life stayed pretty much intact. I actually remember feeling weirdly excited about having time at home to do things I usually wouldn't do. But the novelty eventually wore off when each day started to feel like groundhog day.
I took this photo the day after we went into level two. My family spent the day with my Grandma, because we had no idea when we would be able to safely see her again. Here she is soaking up the sunshine on her deck. Still smiling as always.
Maggie Shui, Multimedia Journalist at Re:
Date: 22 March, three days before we entered lockdown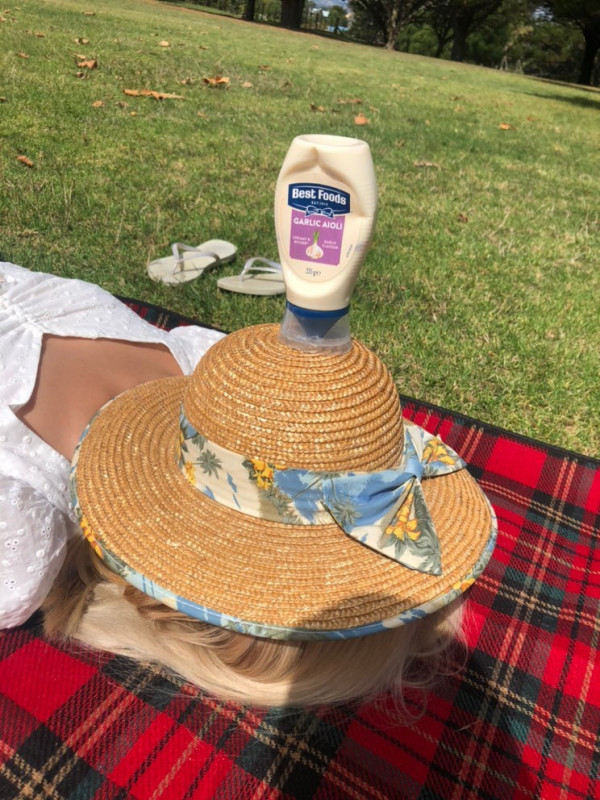 Me and my friend were at Cornwall Park eating chip sandwiches. I remember the air feeling quite buzzy and tense. All the picnics at Cornwall Park that day were probably spaced 20 metres apart, although sometimes people walked a bit close to our blanket which made me anxious.
That night, me and my friend said goodbye and assumed we'd see each other one more time that week. Turns out, the next time we saw each other was over FaceTime because Aotearoa went into lockdown three days later.
One year on, it's hard to pinpoint if I've changed much as a person, but I think I'm more resilient and have some better coping mechanisms for anxiety coming out of lockdown.
Also if Best Foods is reading this, please improve the design of your squeeze bottles because it was impossible to get at least a third of the aioli out!!
Christabel Sikireta, Marketing Intern at Re:
Date: 10th March, two weeks before lockdown announcement.
The most memorable night of my life. I love Ari Lennox's music and it was a beautiful experience to watch her live here in little New Zealand. I was amazed by the opening act, Tanerélle, seeing a gorgeous bold black woman, rocking her afro and her body draped in diamonds, reaching into the audience's soul with her vocals and magical lyrics.
I went to this concert by myself after inviting my mother to come with me. She declined due to the rise in Covid cases but I didn't think Covid would be a major factor. I took this picture to inspire me to be as confident in myself as Tanerélle expressed on stage. The rest of the year was tough to follow through with this, due to the constant changes in levels and lockdowns. However I think in some twisted way, I gained some confidence through the trials and tribulations caused from Covid.
Rebecca Cameron, Documentary Director
Date: 14 March, NZ's sixth confirmed case of COVID-19 announced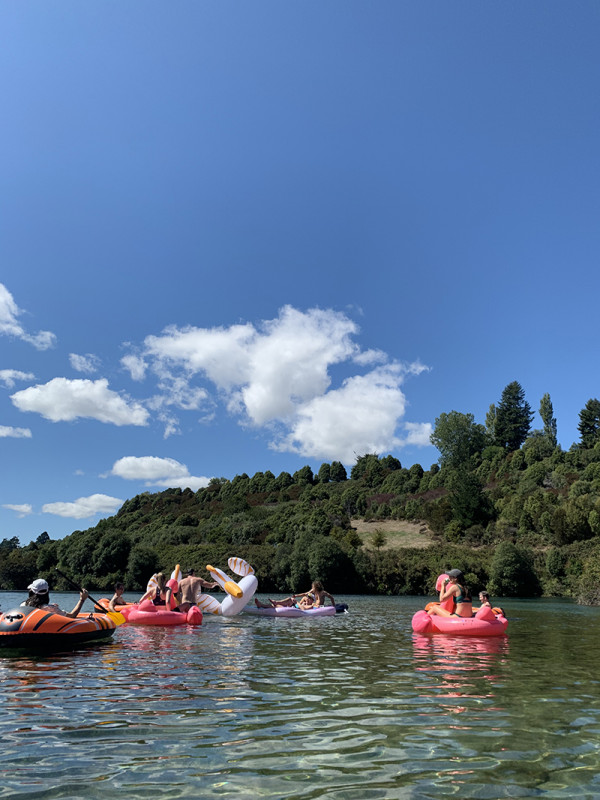 The weekend before lockdown, I'd floated down the Waikato River with a big group of friends - something we do every year.
It feels like things escalated so quickly over the five days between taking this photo, and entering our first level four lockdown.
Before we left Auckland, Covid was a vaguely concerning international headline that made for interesting conversation a couple of times over the weekend. It still felt distant; something we would have to deal with eventually, but not immediately threatening.
By the following Saturday, the lounge in my flat had been converted into an open office space to be shared by seven of us working from home, and the broadband was already beginning to struggle.
Lucy Zee, Creative Producer
Date: 28th February, New Zealand's first confirmed case reported to Ministry of Health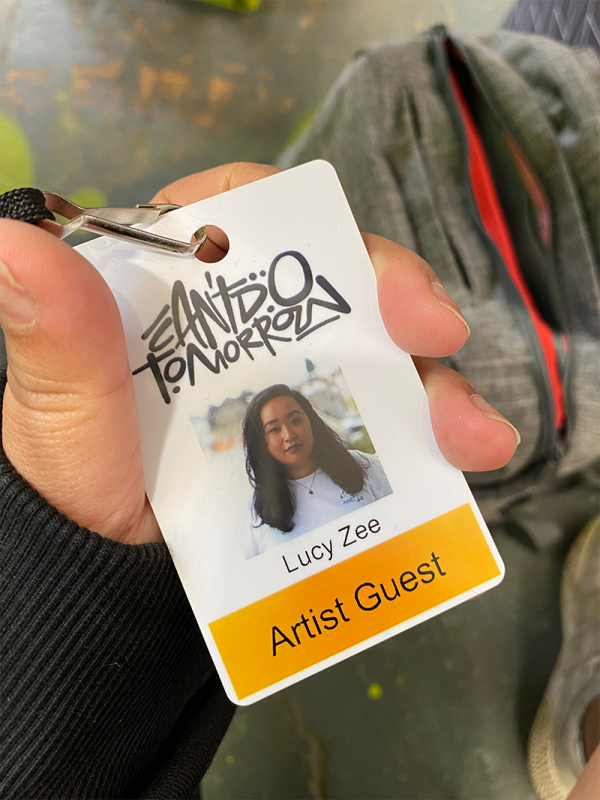 Just before the pandemic I spent three months in Melbourne working with my boyfriend at a graffiti festival. There were murmurings of a virus, no one seemed to think it could touch them at that point. We weren't sure what to think until we tried to buy hand sanitizer in the city. A staff member at Chemist Warehouse said that it was sold out in the state but he let me have a couple of pumps of the staff sanitiser. (It wasn't until a month later that I got my hands on some sanitiser.)
My plan was to come back to Tāmaki Makaurau for a six week contract job and then return back to Australia. I packed a suitcase and said to my boyfriend, "See you in a few weeks!" and kissed him goodbye.
We locked down as soon as I landed back in NZ and now 53 weeks have passed and I still haven't seen my boyfriend.
Despite all this, a silver lining for me was that I got to work on the social media campaign for the government Covid-19 response, doing illustrations and graphics with a team of people. It was an incredibly intense but a unique opportunity and I'm really proud of the work we did.
Stevie Hancox-Monk, actor & theatre practitioner
18 March, three days before alert level system was announced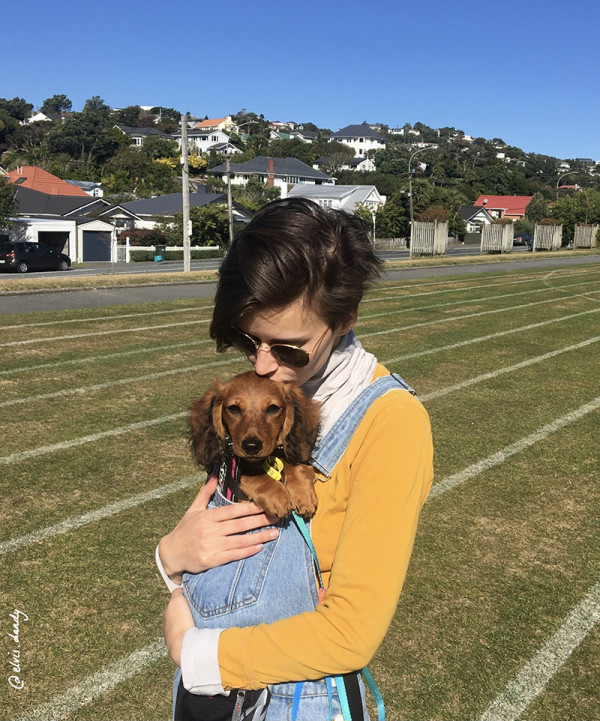 This photo is from a few days before the announcement. We'd just cancelled a Fringe show, and I was carrying our new puppy, Elvis, who wasn't so good at walking yet!
I remember feeling apprehensive about what might happen, but in this moment I didn't think it would be a nationwide lockdown. I was scared of getting Covid and unknowingly passing it on to others, but I wasn't exactly fearful for my own health. Upcoming projects were preemptively getting cancelled or postponed, so my work year was looking bare.
During lockdown I suddenly had all this time, and where so many of my friends and collaborators were making amazing online work, I just didn't have that zing. I spent a lot of time playing Zelda, feeling useless, and many hours on Instagram thinking I'd be able to build Elvis up to ✨ pupfluencer status ✨ (she now has 3,900 followers which isn't bad, but she's not getting herself an official tick any time soon hahah). I also rediscovered my love for drawing and am now doing digital art/graphic design alongside my acting work.
Lockdown weirdly gave us this wonderfully strong bond with a group of friends; we met on Zoom every weekend and watched Drag Race together, played drag race bingo and Blood on the Clocktower—stuff that could still be fun over Zoom—and we all still hang out every weekend but in person now. I treasure each and every one of them and am genuinely so grateful for that bond
I am much more considerate of how I operate as part of a community now. I don't arbitrarily pick stuff up and put it back in the store anymore. I avoid going out if I have a sniffle. I try to live accepting that all of this could change at any moment. A few weeks ago I was meant to be heading to the Auckland Arts Festival to premiere an incredible show I've been working on with an amazing theatre company, and then Auckland went into level 3.
BUT I'm now writing this from my hotel room in Auckland and we are in the middle of our season thanks to the hardworking festival team and the generosity of another artist! So I guess I'm just trying to embrace the twists and turns that come up, as I'm sure there will be many more to come.
Josh Robertson, Multimedia Journalist Intern at Re:
Date: 4 March
Pre lockdown was interesting, I had just moved out of my student accommodation and was living in my first actual flat. We spent most of the months leading up to lockdown going on flat outings, going on walks in the mountains, swimming at the beach and as displayed in this picture going to a museum. Some of the most fun I've ever had with the coolest people.
Covid to us was nothing more than a joke, the word pandemic meant nothing. We were studying at the time expecting the year to play out normally.
So when the restrictions were put in place the contrast in our pace of life was extreme. No studying, no outings, just sitting around.
Cass Marrett, Multimedia Journalist at Re:
Date: 21 March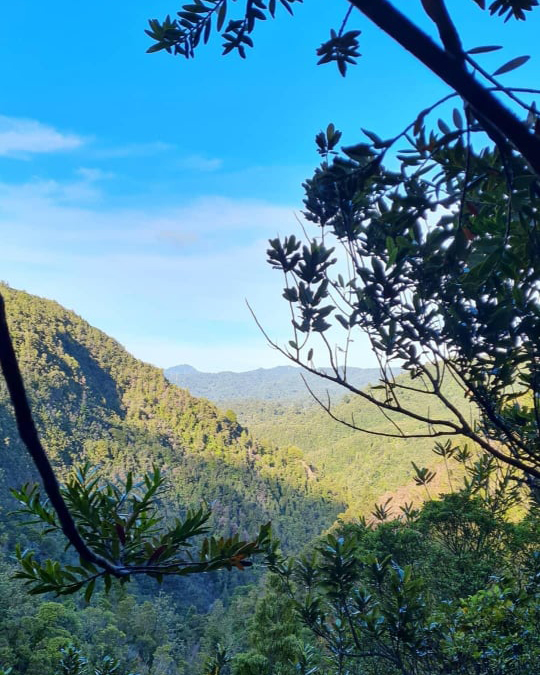 I was climbing the Pinnacles (Kauaeranga Valley, Coromandel) with my partner which is something we did all the time. It's a 12km return walk with stunning views at the summit.
When we reached the hut before the summit - a spot we usually stop for lunch - there was a sign saying to 'enter at your own risk' as people travelling from overseas had passed through in the past few weeks. I got a bit nervous and didn't go in.
We carried on to the summit and I started to get a bit worried about how close I was getting to people on the narrow stairway. My partner made a joke about how many people with covid might be touching the ladder which led to the top, I panicked and refused to summit.
It's amazing how something I'd done heaps of times before was something causing this weird anxiety. I did the walk again last month and they now have sanitiser at the base of the ladder and all is well!
Taylor Cooney, scientist
Date: 23 March, Government lifts country to Alert Level 3, announces Alert Level 4 will come into effect at 11.59pm on 25 March.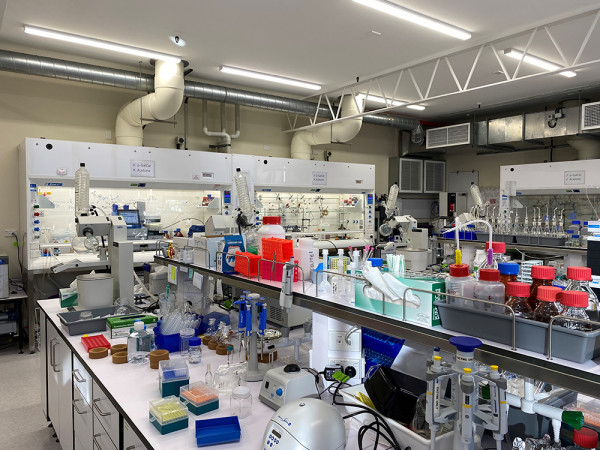 This is a photo of my laboratory, and I took it as I was walking out the door on the day we found out the country would go into a four-week lockdown.
On the way home the only thing I panic purchased was a thermometer. I was worried that if someone in my house got sick I wouldn't know when it was getting serious and wouldn't know when to take them to get medical help. I got the last one at a store I usually drive past on my way home, and the relief I felt was crazy. For some reason having that one thing made me feel more prepared.
I wasn't really scared until I called my best friend who was working as an emergency department doctor. I could hear building noises in the background and she said they were building emergency walls through the department to section it off to stop infection spreading. She walked me through the plans for if thousands or hundreds of thousands of people got sick, or died. For once in my life knowing the plan did not make me feel reassured.
The past 12 months have definitely been different to my original plan which was to move to Germany or Switzerland to take up a Post-Doctoral Research role. However, I've been so thankful to be in New Zealand being able to live a relatively normal life. I applied for a couple of roles overseas but everyone was reluctant to let me relocate knowing that I'd be going from a relatively normal life to something with huge instability. I was lucky enough to get a job here in the meantime doing something I love that is relevant to my field (including working on a Covid research project) so haven't been financially stressed or worried about my career progression.
Over the past year I've definitely learnt to relax a bit. Previously I've been a huge planner, and everything has to be detailed and planned very specifically. On the downside, I've had some pretty major anxiety attacks which I hadn't experienced previously. Mostly these were triggered by stress from not knowing when I'll be able to go overseas and start the new chapter of my life I'd been really looking forward to, and feeling like life was passing me by and I was stagnant.
Luckily these moments have only been fleeting and overall I'm thankful for how it's working out for me.