A light and creamy tomato based pasta with 1/2 zoodles and a hint of chilli for a kick!
INGREDIENTS
1 pack spaghetti cooked to packet instructions
2 x zuchinnis spiralized
2 x garlic cloves grated
1 x can tomatoes including juice
1 x lemon (rind + juice)
2 x red chillis chopped finely
2 x Tbs dried Italian herbs
1 x Tbs brown sugar
1 x can coconut cream
1 x large handful basil leaves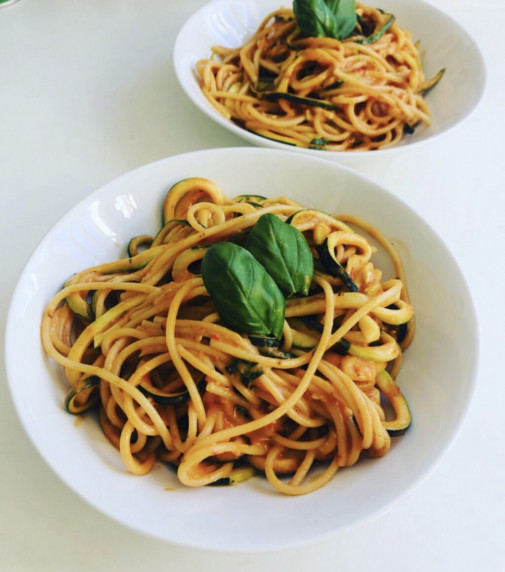 DIRECTIONS
1. Stir-fry your zoodles in a fry pan on med-high heat adding dashes of water when needed for 2 minutes. Then put aside in a bowl.
2. Stir-fry the garlic, chilli and italian herbs with a splash of water in the same frying pan on med-high heat for 1 minute then add the tomatoes with their juice and sugar and sauté for a further 5 minutes.
3. Transfer the tomato mixture to a blender with the coconut cream and blend until smooth.
4. Add the sauce back to the fry pay with the cooked spagetti and all the basil leaves and stir until combined and heated right through.
5. Take off the heat, squeeze the lemon juice, add the rind and the zoodles and stir until combined.
Serve in bowls with some crusty bread and enjoy!