It doesn't look like much of a rainbow election at all. Only two parties have officially released policies that specifically impact rainbow communities.
The Greens want to ban conversion therapy and allow gender markers on birth certificates to be based on self-identification.
While on the other end of the spectrum, New Conservative oppose gay marriage law, want to remove gender identity issues from school curriculums and require transgender students to use school facilities based on their assigned sex at birth.
That's why university student Jess Dellabarca and recent graduate Noor* have put together Rainbow Election 2020, a tool that specifically measures where political parties sit on important rainbow issues.
They've made 15 policy recommendations, ranging from allowing men who have sex with men to donate blood to implementing a plan to end rainbow youth homelessness. The parties' support, or lack of support is charted for each point.
"Firstly, we wanted to raise awareness and encourage voters to incorporate rainbow issues in their decision making," says Jess. "And secondly, we were frustrated at the lack of engagement with rainbow policies, so we wanted politicians to actually make new policies that specifically respond to issues rainbow communities are facing."
Since the tool launched, Labour has endorsed 11 out of the 15 policy recommendations, while The Opportunities Party has endorsed all 15 and released new rainbow 'position statements'.
"To see politicians engaging with this resource and actually coming out with new [positions] they didn't have a couple of weeks ago is really exciting," says Jess. "That's been an incredible outcome."
It's important to note endorsing policy recommendations doesn't really mean anything - it means the party supports the idea but aren't going so far as to release a policy or commit to them.
The Green party's existing policy supported all 15 policy recommendations. National said in a statement they do not have set policy on any as they look at these issues on a "case by case basis." The ACT party also doesn't have policies specifically for the rainbow community because they "tend to not promote policies for particular demographics or communities." New Conservative opposes 9 of the recommendations and New Zealand First and The Māori Party are yet to respond to the tool.
Re: went to a panel debate hosted by Rainbow Election 2020 and asked people and politicians what they wanted to prioritise this election.
"I think that my most pressing issue is funding gender-affirming surgeries. Watching one of my best mates try and go through this process of having their breast removed has been just so crazy to watch. It's devastating to have to wait 50 years and pay 20 grand to feel okay in your own body."
"My big dream is the two gender-affirming surgeons that we have in New Zealand to be full time dedicated to gender-affirming healthcare. So it's not nine people over three years, it's many more than that."
"For me, it is about integrating communities into the conversation. How are these politicians, who are already kind of jaded by the system, going to implement the change when it already takes too long because they need to pass it through so many people or they don't know where to get the information. It's about funding community projects and community-driven work to properly represent these issues."
"I think there is a lot of talk and propulsion already behind a ban on conversion therapy, but I want to see that next step taken. The big rock has been set, we need to see that continue to move forward into a concrete ban."
"Trans health care is my biggest thing. Because we have a devolved health system, where the Ministry of Health hands out funding to 20 different DHBs, we can have up to 20 different ways of doing things. So there's no consistency or easily accessible information about which services each DHB provides."
"Simplifying this up would be like the most basic thing that we could get. It's free, it's not gonna cost them anything. From there we need to train health professionals on how to work with people of different genders."
"There absolutely needs to be a rainbow community minister. I'm surprised that they don't have one already. They have a rainbow room, might as well. Come on, guys."
"I think as long as they're involving the community, the rainbow community, in everything that they do, that's where it needs to be. We need to include people who have lived experience when we are making policy that impacts other people with lived experience."
"Something really important to me in my journey of being a member of the rainbow community would be a focus on education. Implementing gender and sexuality into the curriculum and ensuring school is a safe space for everyone in the rainbow community."
"Same-sex relationships weren't even talked about in my school, I think that at the bare minimum that is something that needs to be discussed in a school setting. I don't know about you but my sex education teacher was also a health and PE teacher, did they get taught about these things in teacher's college? That should be compulsory for every teacher."
"I'd love to see an actual policy that could allow gender diverse students to go to the school that they choose, and not have backlash for. I also want there to be a standard or competency level each school has to reach when it comes to sexuality education. It needs to come from the top, we can't just lay that burden on students and families."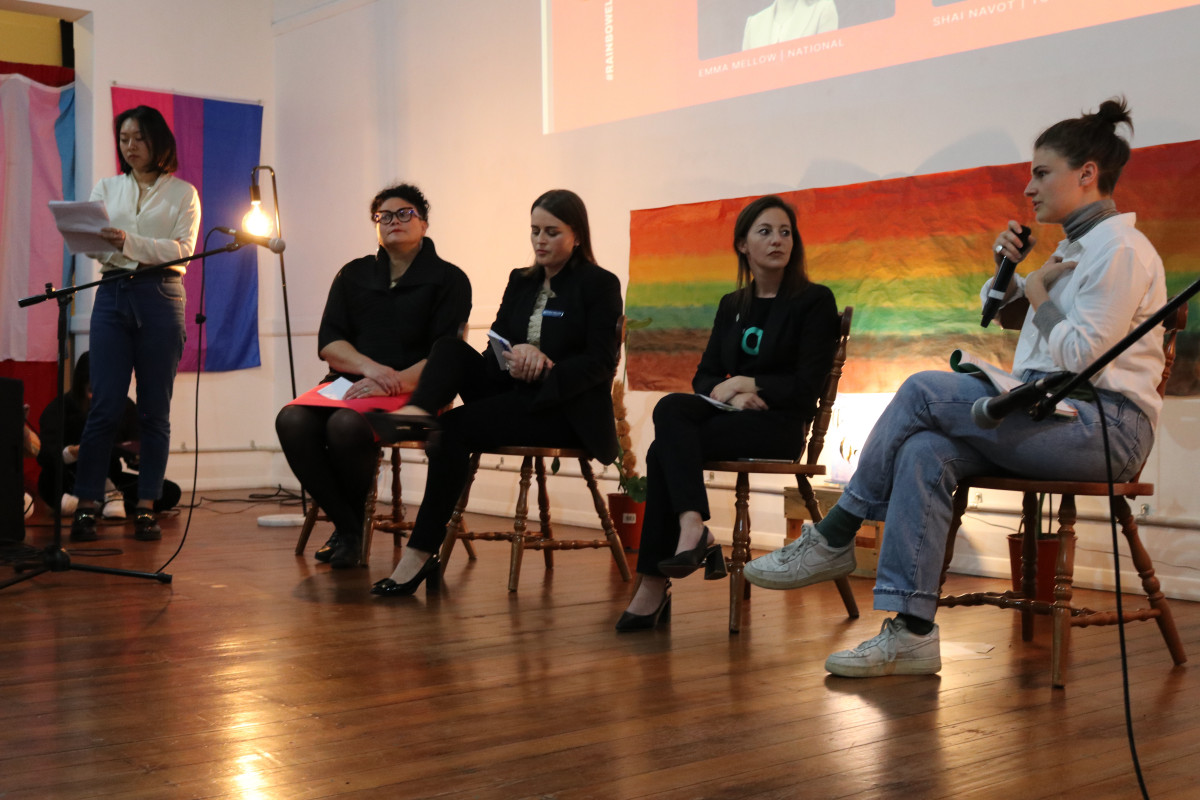 Last week, Rainbow Election 2020 and Medusa Collective, an artist hubspace on Karangahape Road, held a hui to publicly launch the tool and discuss the rainbow policies our politicians are putting forward this year.
National, Labour, the Greens and TOP were represented. The ACT party declined to attend and The Māori Party did not respond to the offer.
Overall, there was a lot of consensus over topics that ranged from mental health to education, rare for a political debate.
Labour, Greens and The Opportunities party all supported a ban on conversion therapy. Green MP Chlöe Swarbrick called it a "a form of physical and psychological abuse and the imposition of trauma and grief," and said other jurisdictions have banned it, "and we need to get on with it."
National Auckland Central candidate Emma Mellow said that National will look at the issue when it is pulled from the ballot in the future as they will treat this as a conscience issue. "But I'll be very clear on my thoughts on it, I think that no one should be forced to be trying to be cured for who they love," she said.
Everyone agreed that improving health services for rainbow communities has a long way to go. Emma Mellow says the current mental health system is not working, and she wants to see e-services and health practitioners attend mental health emergencies alongside first responders.
Labour MP Louisa Wall was vocal about wanting the government to step back when it comes to deciding what is appropriate for communities. "The best thing we can do is actually fund and support the capacity within our communities to help ourselves, because communities know what their communities need."
Chlöe, Emma and TOP's deputy leader Shai Navot all echoed this sentiment. Shai said a "decentralised approach" to health care is urgently needed. "Politicians are not experts in these fields and do not have all the answers. So it is about deferring to the communities and the experts who do."
Every politician said they needed to learn more about what rainbow communities need, and they encourage people to come forward and help them.
*Not her real name