Re: commissioned artist Pounamu Wharekawa to create images for Te Wiki o te Reo Māori. Here, journalist and curator of our Te Wiki content Kahu Kutia speaks to Pounamu about their work.
Ko wai koe?
Kia ora! My name is Pounamu Wharekawa and I use they/themme pronouns. I whakapapa back to Tauranga Moana, so Ngāi Te Rangi, Ngāti Ranginui and Ngāti Pūkenga are my iwi, but I grew up mainly in Whāingaroa on Tainui land and now live in the big smoke of Kirikiriroa.
Tell us a bit about your art practice. How did you get into art? What themes do you explore in your work?
So I got into art very young, my māmā is actually a super skilled painter so I spent my childhood surrounded by beautiful paintings depicting our atua and pūrākau. I suppose it felt natural for me as I grew up to take that kind of mahi on, and knowing that mahi toi was already valued and celebrated in my family really helped me to see it as a valid career and study path.
Most of my work focuses on the intersections of identity, viewing the world through the lens I have as a takatāpui, white passing Māori who is trying to do the mahi to relearn my roots. I like to say what I do is traditional pūrākau meets urbanised brat because I like to pull from our traditional knowledge and stories and reimagine them in a modern, urban context.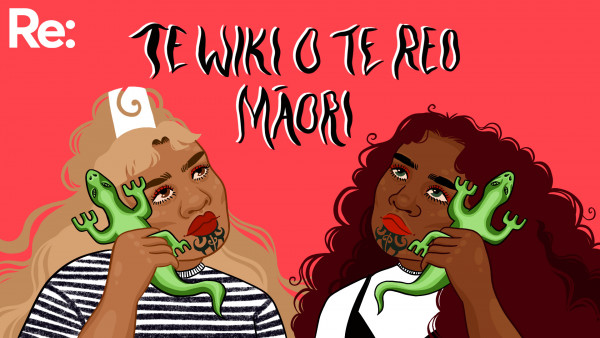 Tell us a little bit about the designs you've made for Te Wiki o te Reo Māori!
For me, I see Te Wiki o Te Reo Māori as a time to really celebrate the language of our ancestors, something we as Māori have managed to keep hold of despite it all. When I was making the main image I was thinking about channels of speaking to our tīpuna and to future generations and I got the idea of using mokomoko (geckos) almost like phones I guess!
It started with me being like 'Haha it's a pun, I'm speaking to my mokos' but then as I thought about it more I figured that mokomoko have been here longer than we have so who better to carry our messages through time and generations?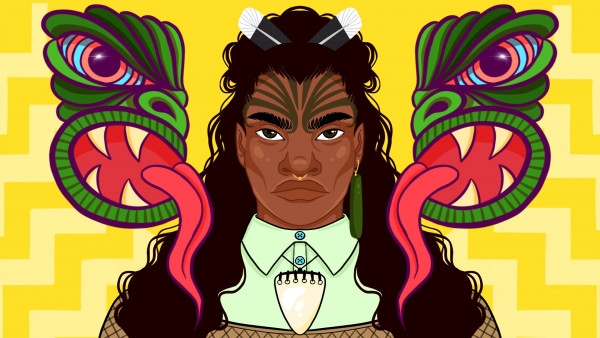 For the illustration I did for an article about building career success through te reo, I just wanted to depict someone who looks like they're staunch and committed to their authentic self as Māori, which I think (especially after the recent events concerning Rawiri Waititi and his hei tiki in parliament), is something white New Zealand is kind of scared of.
The wheku/taniwha type heads on either side of the figure to me are kaitiaki, lending their mauri and their wisdom.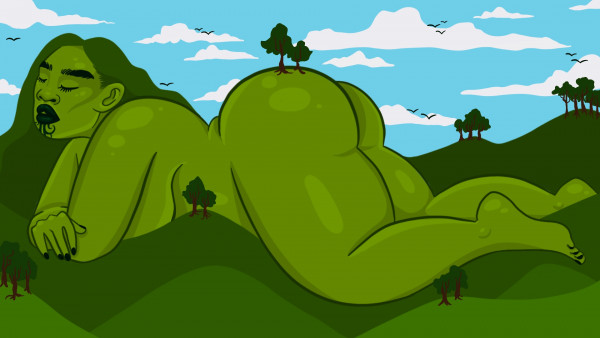 For the image that will accompany an article on fun horny reo to incorporate into your life, I wanted to show a wāhine whose sexuality wasn't performative or staged but was just like, within herself and enjoying being a sexual being. I also wanted to link this idea with Papatuānuku and was kind of inspired by Hone Tuwhare's poem "Papa-Tu-A-Nuku (Earth Mother)," taking these ideas of being intimate with the land, humanising her and seeing her as someone who can experience pleasure rather than this abstract goddess-being.
What's your favourite kupu Māori?
Hmmmmm that's a hard one! Probably mana? I like that there's not really a reo Pākehā equivalent. I like words in te reo that you have to gesture and show with your hands or your body the meaning because there are no words to explain, I think it just shows the richness of our reo and how ingrained these ideas are in our state of being.
What's your dream for te reo Māori?
My dream for te reo Māori is for us as Māori to have the capacity to fully take on the mahi that is relearning te reo, our tikanga and cultural practices and to feel encouraged to do so. I feel like so many of us have refrained from learning because we're not sure how applicable that knowledge would end up being in Aotearoa in its current state, and I just want everyone to know that this is applicable, important and necessary.
This is our birthright, so many people have done hard mahi to get us to the point where we can access te reo in the ways we can now, so if we have the capacity to take that on then we should!