20 percent of New Zealanders speak a language other than English. We talked to four tauiwi (non-Māori) about their journey with te reo Māori.
Here, they tell us what they learnt.

Israa Zafiri
Tell me a little bit about your background.
My family is Middle Eastern, they trace back to Kuwait. I was born in Iraq and raised there and in New Zealand. I'm fluent in Arabic as well.
When did you take your first steps towards learning Māori?
When I was doing my law degree I started to get a bit into Māori land law. And that's when I started thinking 'Okay, if I wanna get into treaty settlements how can I better my knowledge in that aspect?'
So I started going out of my way to take te reo Māori classes in uni. We use certain terminologies and concepts in our studies so I felt like it was vital for me to understand it. I loved it, I really loved it.
Did you notice any similarities between Te Reo Māori and Arabic?
There's certain Arabic terminologies when you try to explain them in English, it just sounds weird, and that's the same with Māori. It's such an emotive language. You feel something when you speak it.
How did you benefit from learning about Te Ao Māori and Te Reo?
Personally, I'm on Tangata Whenua land. It's a form of respect. It's a form of understanding.
I even took issue with it back in high school that we had all these language streams of French and German and all these other languages but no Māori stream. If there was one I actually would've taken it, because I felt like it would've been more beneficial.
We hear Pākehā say all the time: you need to speak the language of the country you're living in. And it's not Te Reo that's spoken predominantly in Aotearoa - though it definitely should be.
Was there anything you struggled with while learning Te Reo?
Some people would say to me "Why are you so pressed about these issues, why does it concern you, obviously you're not Māori, why is it such a big deal for you?"
And I think a lot of people don't know that just because you're not of something, that you can still be unified with it.
Was there something you learnt that stuck with you?
The concept of whānau for sure. It's such a deep meaning, it's so close-knitted. I like the way that everyone is quite unified. That's always stuck with me.
Has learning Te Reo helped you form a deeper connection to Aotearoa?
Absolutely. Back in high school we learnt the very Eurocentric side of the treaty settlements and we never really knew everything about it.
This language was beaten out of children, people were forced out of their cultures, forced to assimilate. And then now have had to face the repercussions of these disparities in comparison to Pākehā. Learning the language is the very least we can do.

Noel Yeldos
Tell me a little bit about your background
I'm originally Indian, South Indian to be exact. I moved here with my family in 2003 when I was about ten. I speak two South Indian languages, one is Tamil and the other is Malayalam.
When did you take your first step towards learning Te Reo and why?
I only enrolled in a course last year but prior to that I'd just been learning waiata and making an effort to pronounce words and placenames correctly. It was out of respect for the language, you know, hearing people butcher the names and words.
How are you finding the course?
I did level one and two last year and now we're doing level three and four. It was awesome. It's such a different experience to learning at a Pākehā institution. You just feel welcomed, like the class has become a little family almost. There's no competition between students, everyone is on their own journey.
Were there any key things you learned on your journey with Te Reo?
Personally, having been brought up in a south Asian household and wanting to do the best you can in academics; being in this kind of learning journey forced me to step back a bit. And realise it's okay to make mistakes, they're a part of your journey, you don't have to be perfect all the time.
Is there anything you learnt that stuck with you?
There's a proverb that I really enjoy and it's: Ehara taku toa i te toa takitahi, engari he toa takitini. Which is like, my strength and my success is not mine alone, it's the strength and success of the collective.
What have you incorporated into your everyday life?
I try to just use Te Reo when I can, saying "kia ora" instead of "hello" and "ae" instead of "yes". And at my flat now we even do a little karakia before eating, so it's real nice.
Was there anything that you struggled with on your journey?
I think it was a struggle in the sense that, for me, learning the language is easier because I'm not having to overcome generations of trauma. I felt like I took up a lot of space trying to be right, like 'Oh I know this' so I'd put my hand up and say it.
So this year I made it a point to step back and let others just say what they know.
Do you feel like learning Te Reo has helped you form a deeper connection to Aotearoa?
I feel like I have an understanding of the stories of Aotearoa through a Māori lens. It makes my understanding of Aotearoa a little bit richer.
Anything you'd wanna say for non-Māori who want to learn Te Reo but are hesitant?
As non-Māori, we need to start speaking it so that it can be normalised. I don't think it's a challenge that we can just leave up to Māori. They're trying to revitalise it and they're doing amazing things. For me as a migrant, I have a responsibility and obligation to support that revitalisation of the language.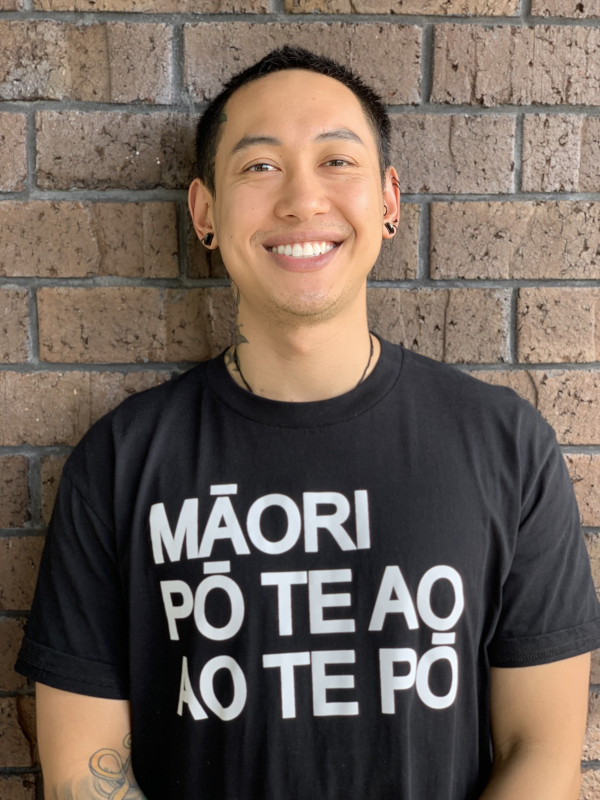 To see Tze's videos about Te Ao Māori and te reo, check out his instagram or tiktok @tze_ngatai.
Tze 'Ngā-Tai' Wee
Tell me a little bit about your background
I was born in Singapore but raised in Tāmaki Makaurau. In primary school my older brother and I were the only Asians in a Māori emphasis class. I think that kind of upbringing and being exposed to Te Ao Māori from an early age has really shaped my passion. I predominantly spoke Mandarin with my mum and English with my dad.
When did you take your first steps towards learning Māori?
I knew that I wanted to do a full immersion course in 2015. So I prepared myself for that by doing night classes at Unitec in 2014. That's when I properly started my journey. It's quite interesting because when I talk about being in primary, you know we learnt waiata and kapa haka but I never really remembered learning Te Reo Māori like properly.
Was it easier learning Te Reo as a third language?
I guess the advantage is that you're able to understand that not everything is translatable. For example the word 'mana'. People say "Oh yeah, it translates to authority and stuff".
But that concept of mana is so much deeper in Māori.
What was a memorable moment for you?
After I'd studied full time and knew how to speak Te Reo, I was cleaning my room one day and I had a folder from when I was nine years old and I found a piece of writing that was actually fully in Te Reo Māori. And I was reading it and I was like, I understand what I wrote now! I don't remember ever writing or learning Te Reo Māori. So that was pretty cool.
Did you notice any similarities?
When I started learning more about Te Ao Māori I was like, 'Oh this is why I resonate so strongly with Māori culture'; because it's so similar to my culture and a lot of other cultures; where family is so big, and food is a shared experience and hospitality is important - like the concept of manaakitanga and stuff like that.
Anything you struggled with?
I've had close people tell me it's a dying language, what's the point of learning it, why are you learning it, etc. And I think my purpose in learning Te Reo is to show people it's something we should all be doing and normalising it too.
Was there anything you incorporated in your day-to-day?
I made a conscious decision when I learnt Te Reo that I'd only say kia ora to people - didn't matter who they were. On the bus: kia ora driver. In the drive thru: kia ora, can I get some wicked wings? It's not just leaving the language for one week out of the year.
Have you developed a deeper connection to Aotearoa since learning Reo?
Definitely. Growing up I always felt very othered. Aotearoa felt like a very Māori or Pākehā thing. And I didn't belong to either. But I think learning Te Reo has made me feel more rooted and that I belong more.
Do you see changes in the attitudes towards using Te Reo?
Obviously it's changing, like even the media saying they won't be accepting complaints to do with Te Reo Māori. But there is still that resistance. So you just gotta keep on doing it. No matter how little Te Reo you have, use it. Let yourself be comfortable using it.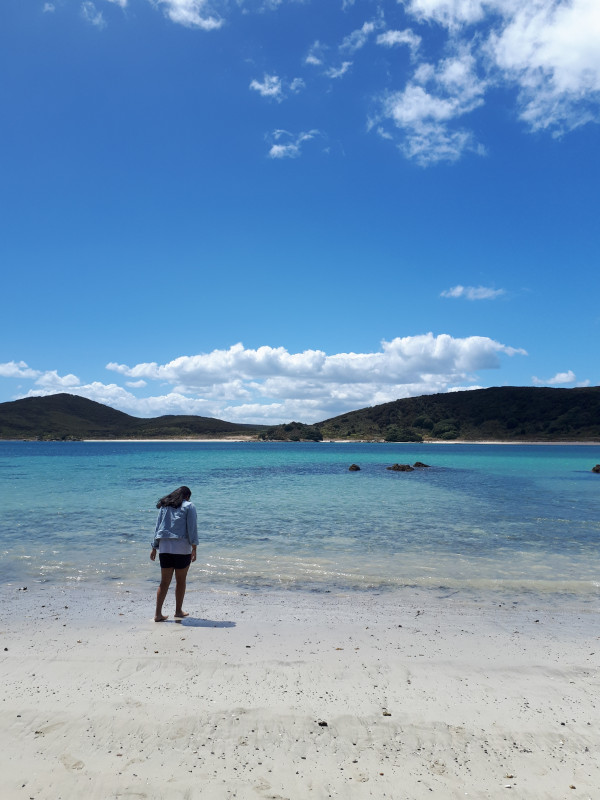 Sen
Tell me about your life in Aotearoa
I migrated here with my family from Sri Lanka when I was about 8 and I speak Sinhalese.
When did you take your first step towards learning Te Reo?
It's something that I've always wanted to explore and learn. So when I got to uni I took a couple papers on Te Ao Māori and started my journey from there. But the main learning I got was from a night course at Unitec in 2019.
What are some valuable things you've learnt?
A big thing I found really valuable in learning Te Reo Māori is learning about how important language is to tangata whenua and how it really does permeate a lot of the cultural identity. I guess it's like an awareness of colonial forces and everything that's happened historically. I think it's really helped me feel like I understood New Zealand history in more depth.
Anything you struggled with?
Just having the opportunity to practice it. I feel like it's definitely becoming more common that people are learning Te Reo, both tauiwi and tangata whenua. But I didn't really find anyone in my immediate circle that knew it enough for me to chat with them and have that practice.
What have you learnt that you incorporate into your life now?
In the study that I'm doing at the moment in mental health work, we use a lot of karakia, and a lot of mental health related Māori terms. So I think having that kind of background really helps in those situations. For example, I use "tangata whai ora" a lot, which means people who are seeking well being. The classes also helped me understand the more holistic views of health.
Any personal observations?
I just think it's such a beautiful language. The more I learn it the more I'm like "Woah". It's very contextual. The words don't necessarily translate exactly every time and I think that's really cool because when you're fluent in it, it's such an art to master.
Did learning Te Reo help create a deeper connection between yourself and Aotearoa?
For sure! I think learning Te Reo also in a strange way helped me form a deeper connection to my Sri Lankan heritage too. You know, understanding how we fit into this land as well. And there's a lot of similarities, like Sri Lanka is a collectivist culture and Māori is a collectivist culture too. So it helped me find my place in Aotearoa and within my own cultural background too.
More stories:
'I don't want rangatahi to have to fight for our reo': 6 people on their hopes for te reo Māori
A short history of Te Wiki o Te Reo Māori
Affirmations for when you need a reminder of your connection to Te Reo Māori