Fish heads are delicious and cheap, but many New Zealanders don't and won't cook with them. Often, fish only comes in fillet form, wrapped in plastic at the supermarket. This means that 70% of the fish - the head, frame and guts - is discarded.
Carlos Hotene from Papatūānuku Kōkiri Marae in Mangere, Tāmaki Makaurau works with Kai Ika, a kaimoana rescue project. Four days a week, they rescue fresh discarded fish parts that would otherwise end up in landfill, and distribute that kaimoana among their community. In our video, Carlos met with Kirsty Fong from the activist group Asians Supporting Tino Rangatiratanga to cook fish head bee hoon soup, and talk about their kaupapa. Here is Kirsty's recipe.
This recipe comes from Singapore, and is an amalgamation of the many immigrant cuisines in the city, with its roots from Southern China.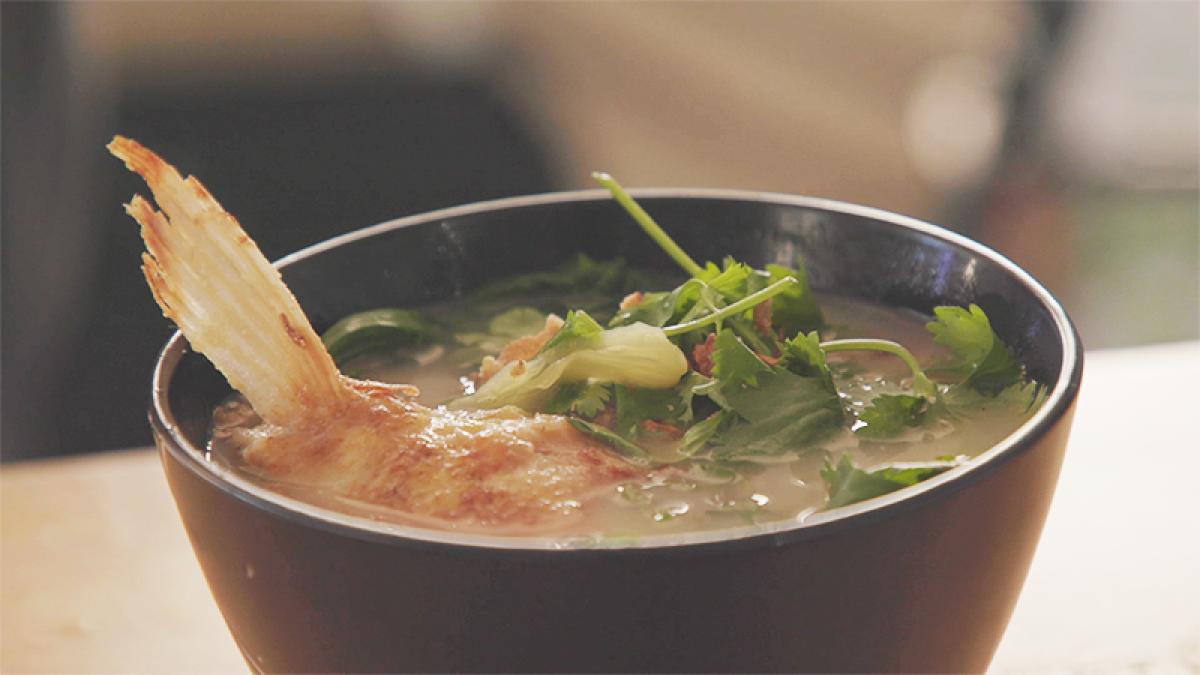 Bee hoon is a rice vermicelli that is available in different thicknesses - I like the thick round noodles for its chewiness, however any noodle would work well.
The soup is rapidly boiled, which emulsifies the oil and concentrates the flavours resulting in a potent, creamy and slightly sweet soup.
These are intuitive guidelines rather than a precise recipe. I encourage you to periodically taste, and omit or add anything that will make it sing for you. It is customisable depending on your preferences, how many fish heads you have and how many people are hungry!
There are a few steps to start off with, but it comes together quickly. The soup keeps well and intensifies in flavour the next day.
Prep time: 20 min
Cooking time: 40 min
Ingredients
Soup
4 - 6 fish heads and frames
Enough water to cover
Neutral high heat oil like canola, sunflower or rice bran
1 tsp white pepper
1 tbsp salt
Aromatics
1 5cm knob of ginger, roughly sliced
1 bulb garlic, peeled and cloves roughly smashed
1 onion or 2 shallots, sliced
1 bunch spring onions. Divide the stems from the tops. Roughly chop stems and set tops aside for garnish
½ c evaporated milk (or substitute with cream, or full fat milk), optional
½ c rice wine
2 tb soy sauce
2 tb fish sauce
Collars
8-10 fish collars, taken from the heads (if not using collars, then firm white-fleshed fillets cut into bite-sized pieces may be used instead)
1c all-purpose flour
1 tb salt
½ tb ground white pepper
1 tb sesame oil
2 tomatoes, cut into wedges
1 packet rice vermicelli or any noodles you'd like, dependent on number of servings
350g pickled mustard greens, rinsed, squeezed dry and sliced thinly. Set ½ aside for the garnish
Garnish
Fried shallots
2 bunches Chinese leafy greens (choy sum, bok choy, or whatever is in the māra)
Fresh chilli, thinly sliced
Spring onion tops, thinly sliced
Soak noodles in warm water, prepare flour, chop aromatics and garnishes. Set aside.
Scale and clean fish heads. Pat dry.
Remove fish collars from the fish heads. (This is a good time to set aside the roe which is delicious smoked or fried, and any entrails that can be used for fertiliser for the garden. Nothing goes to waste!)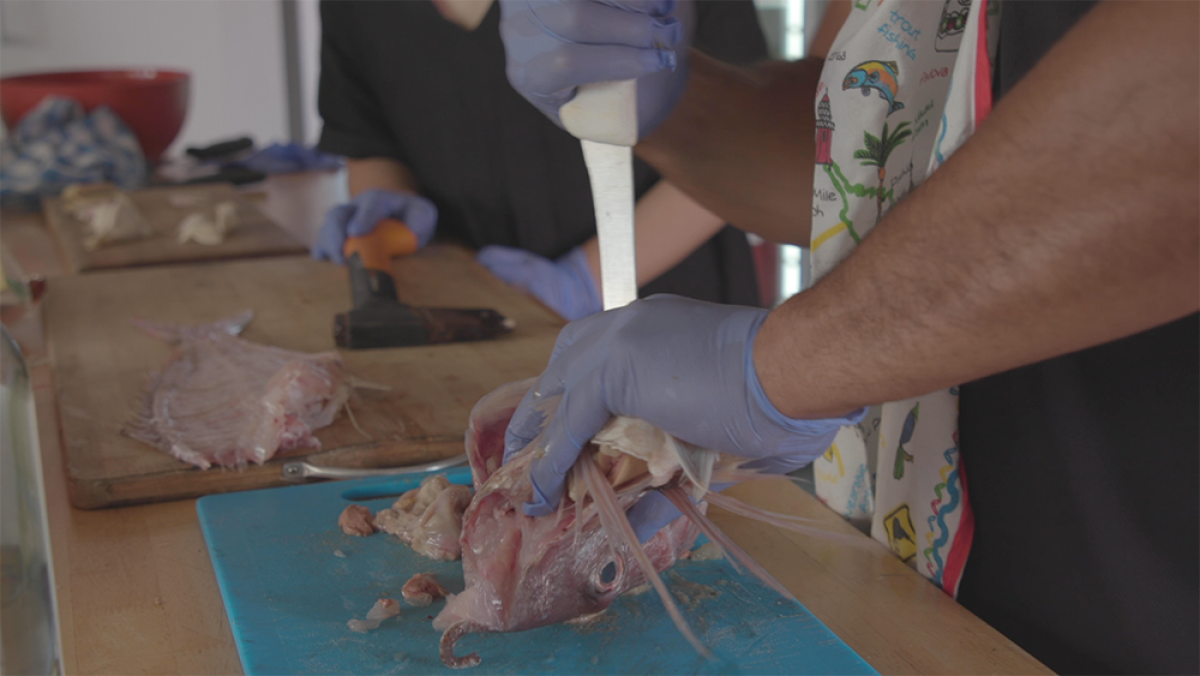 Divide fish frames into half or quarters if large.
Heat a large non-stick frying pan with 1 cm oil over medium-high heat.
Fry fish heads in batches until golden brown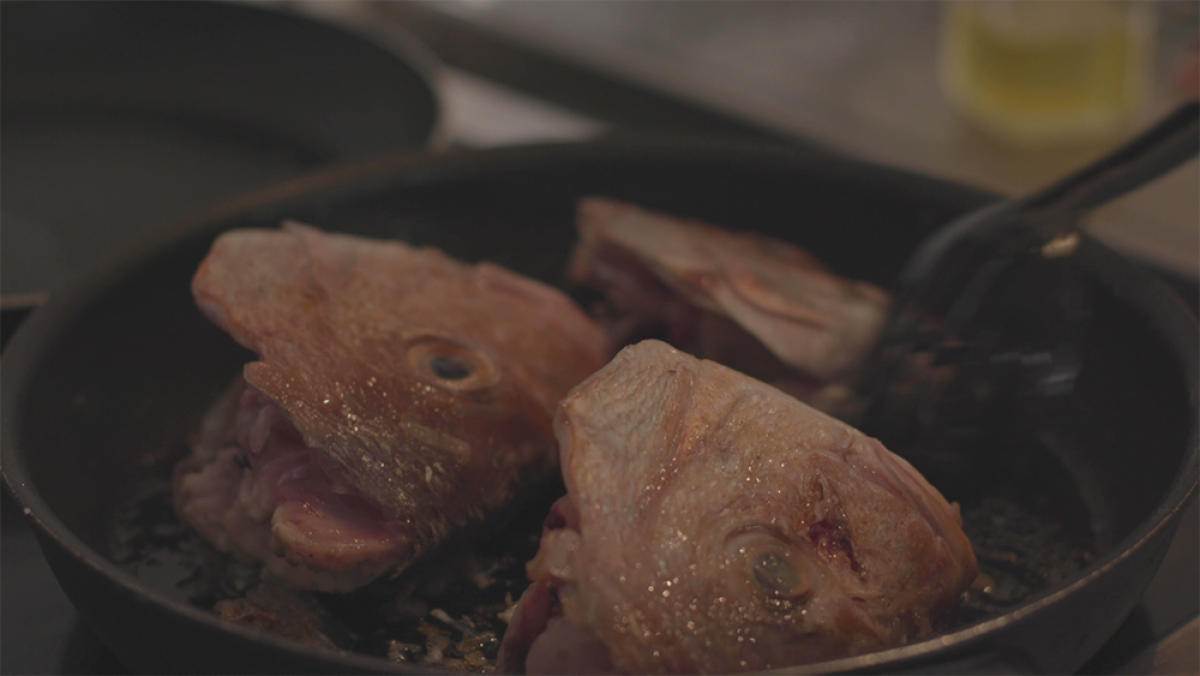 When all heads are fried, transfer to a large stock pot. Add frames. Add enough water to just cover, and bring to a boil.
Add aromatics to the frying pan, fry for a few minutes until fragrant and golden. Add to the stock pot. Bring to a rapid simmer, around 25 minutes.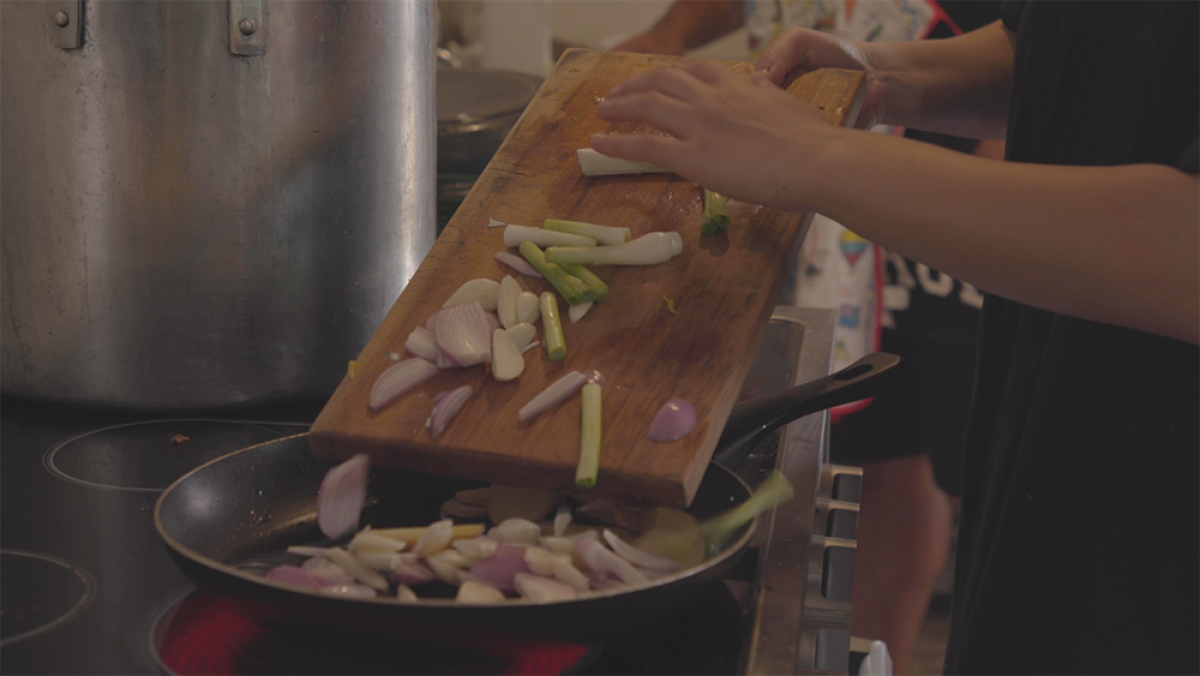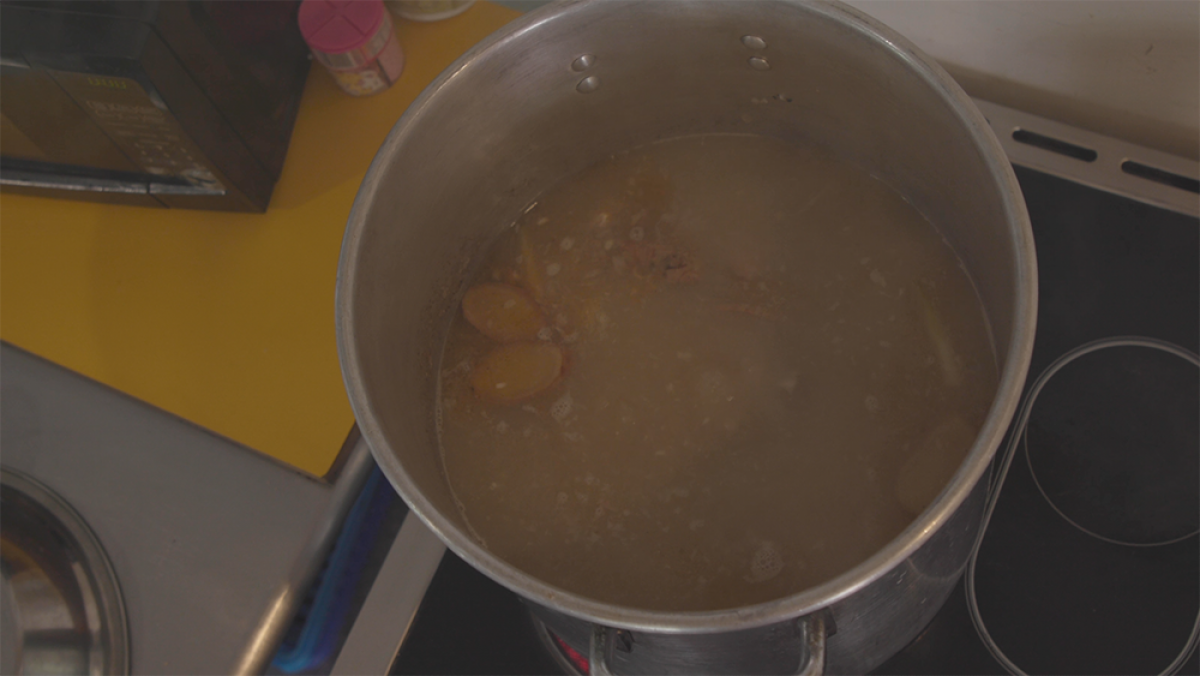 Increase the frypan heat to high. Add more oil if needed. Working quickly, coat the fish collars with flour, then shake the excess flour off and add to the frying pan. Do not crowd the frying pan - only add a few collars at a time so the pan isn't too full. This will help them go crispy.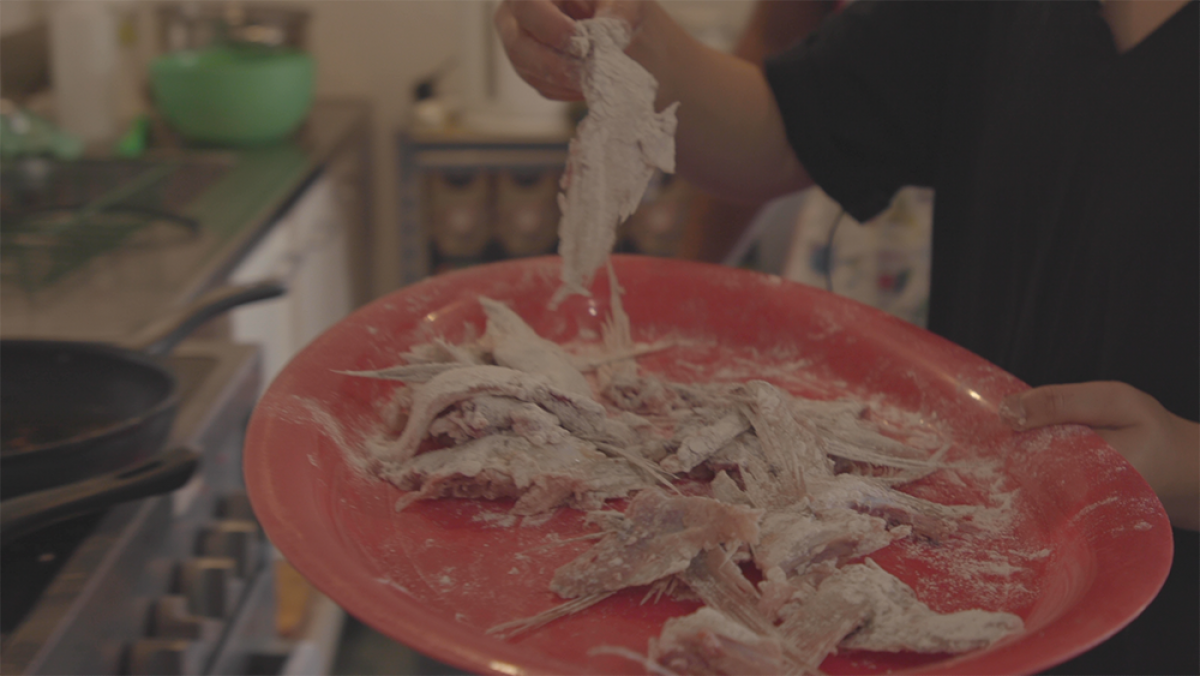 Fry collars until just cooked through, golden brown and crispy. If the collars are small, it should take 1-2 minutes each side.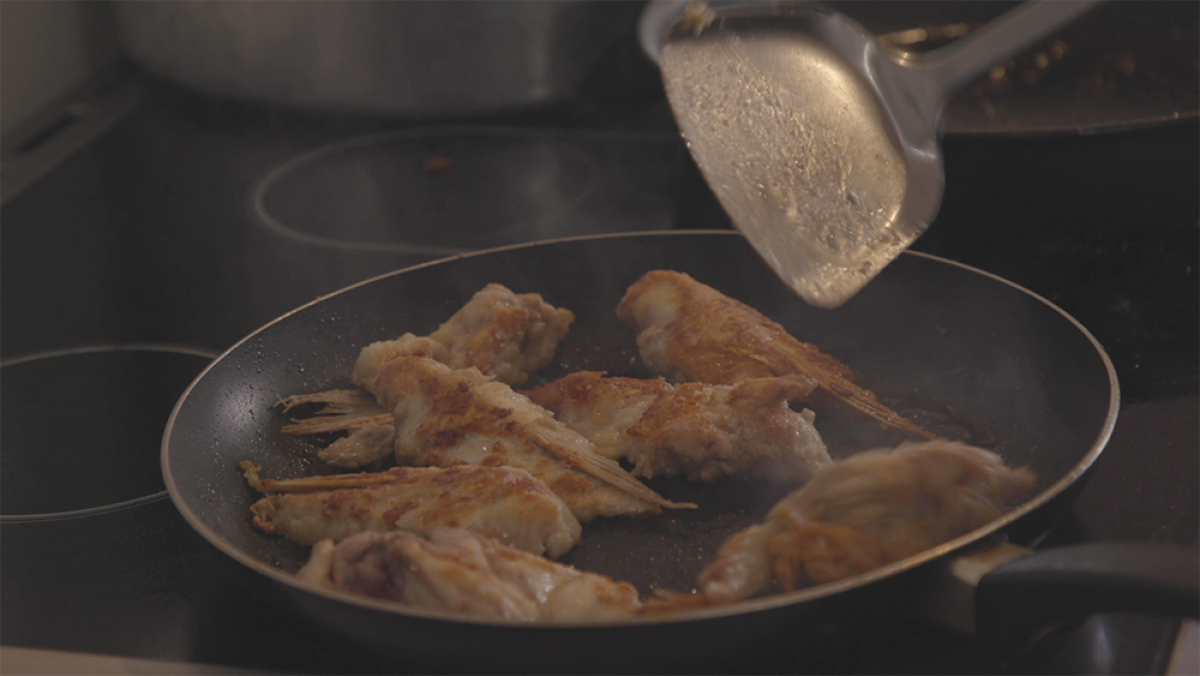 Set fried collars aside on a metal rack. They may be kept warm in an oven heated to 60 degrees. You can cover them with tin foil to stop the oven from browning them any further.
Bring a medium pot of water to the boil, add 1 tb of salt. Blanch the greens in the boiling water for just a few minutes until cooked, then shock them under cold water so they stay green and don't wilt. Drain and set aside.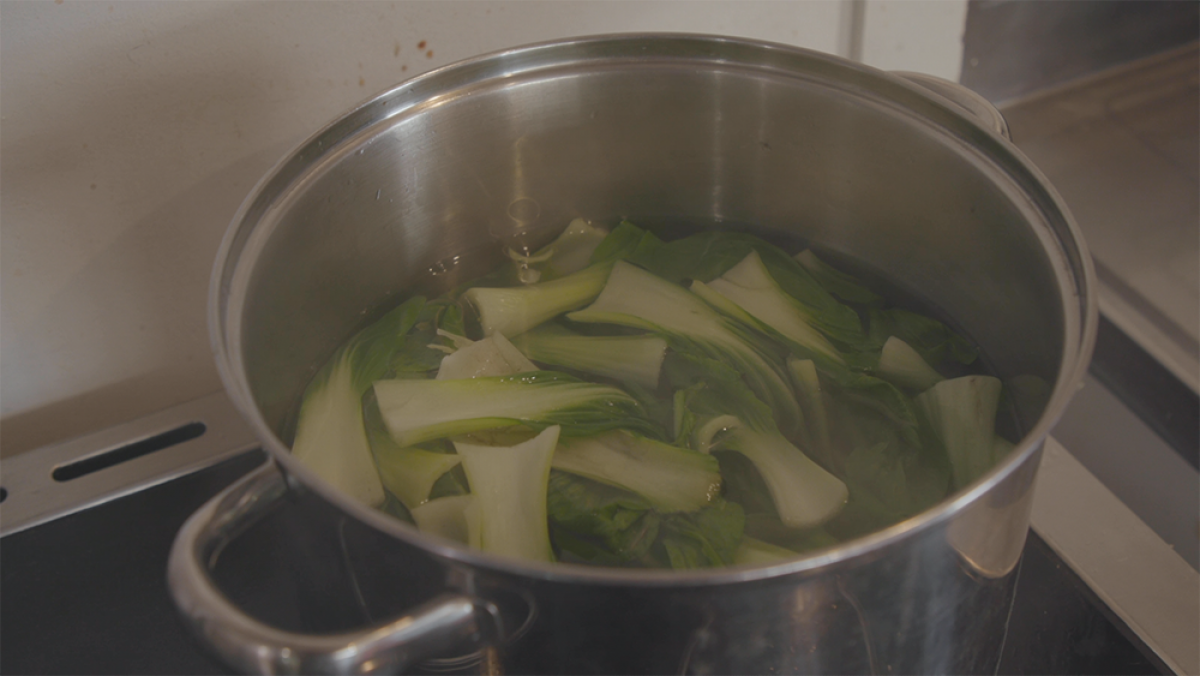 To the boiling water, add noodles and cook to desired texture. Drain, and rinse under cold water. Stir through sesame oil to prevent sticking. Set aside.
Add fish sauce, rice wine, pickled mustard leaves, salt and white pepper to the soup. Taste, and if it needs more of anything, add it! If desired, evaporated milk or cream may be added to enhance the creaminess. Add to taste.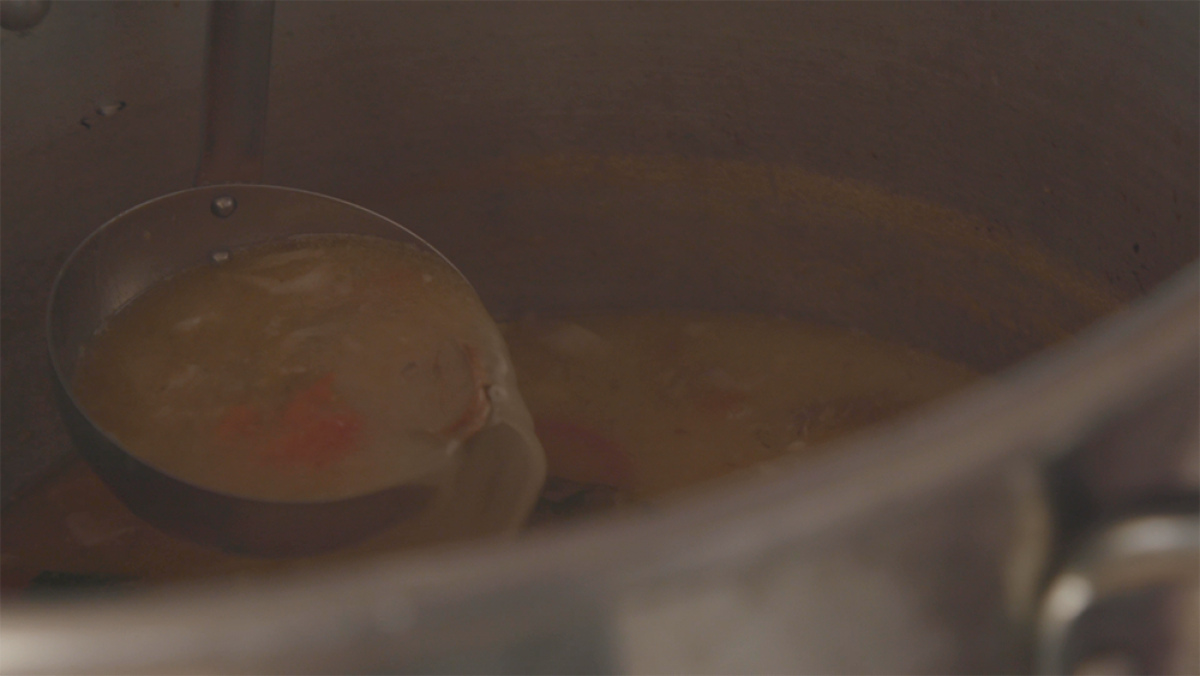 Strain the stock into another pot, keeping the stock and removing the heads, frames and aromatics. If desired, remove the cheeks, eyes and any flesh from the heads, and add that flesh into the soup.
The heads, frames and aromatics can go in the compost, or be reboiled for a lighter tasting stock.
Add tomatoes, simmer for another 5 minutes.
When you are satisfied with the taste of the soup, assemble the noodles and greens in a bowl.
Ladle the hot soup over, and top with fried fish collars.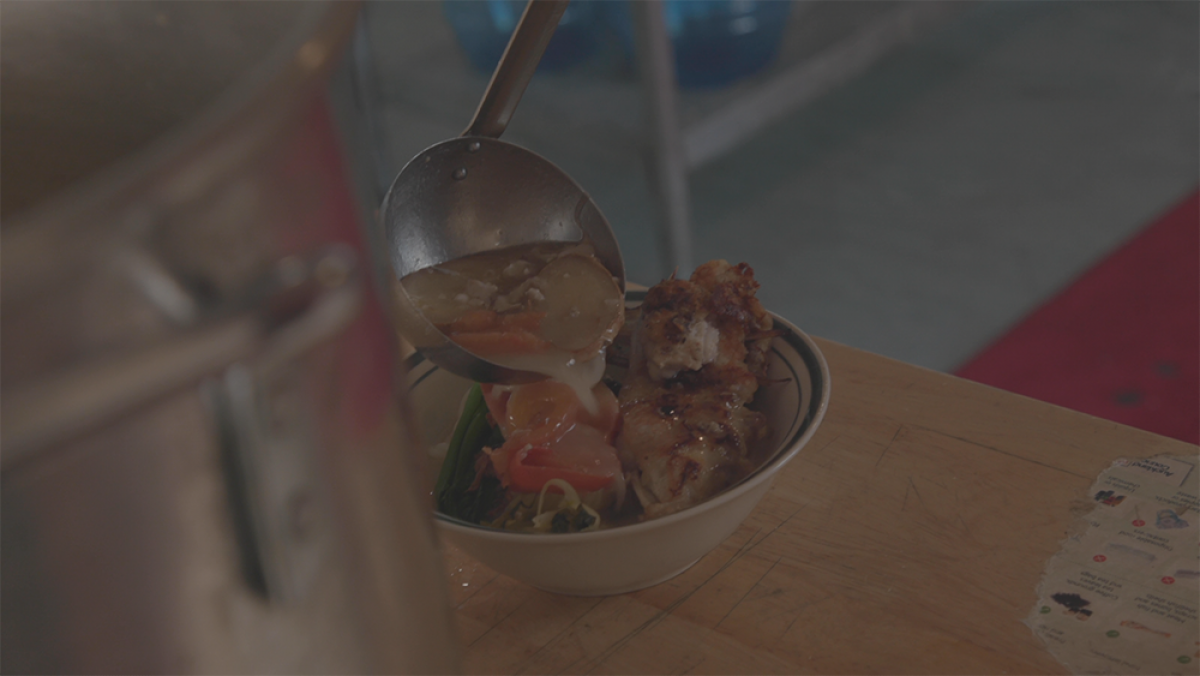 Garnish with fried shallots, spring onions, coriander, pickled mustard leaves, sesame oil and fresh chilli if using.