Tuesday January 18
There are 14 new cases of Covid-19 today.
Of these, seven are in Auckland, six are in Lakes, and one is in Wellington.
There are 30 people in hospital, with two of those people in intensive care or high dependency units.
The average age of people currently in hospital is 51.
There are 30 new cases at the border.
95 percent of New Zealand's eligible population have had the first dose of the Covid-19 vaccine, and 93 percent have had a second dose. There have been 789,064 booster doses administered.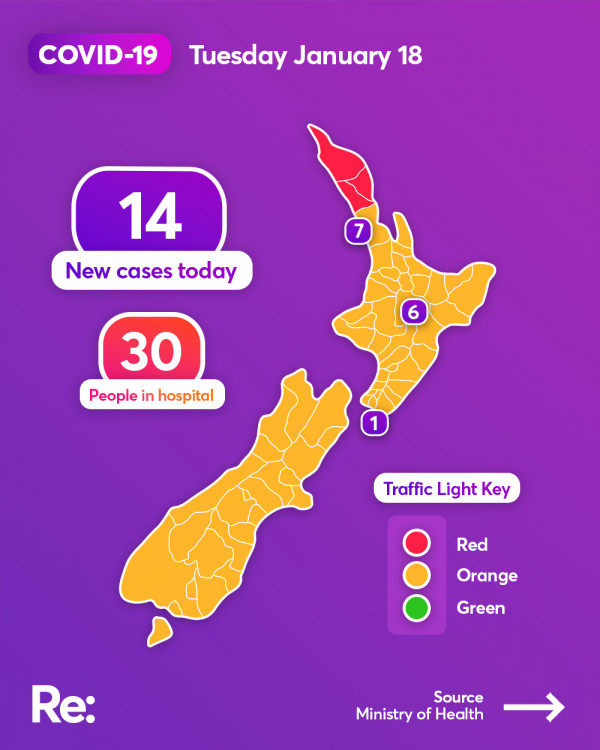 Child vaccine rollout
Yesterday there were 14,367 vaccine doses administered to 5 to 11-year-olds throughout New Zealand.
The Ministry of Health says it is not providing breakdowns of data by geographical region or ethnicity in small communities at this stage to ensure those communities privacy. However, some DHBs may choose to provide updates on the 5 to 11-year-old rollout in their area, as per these privacy considerations.
There are more than 500 sites around New Zealand administering vaccines to this age group, check here for an updating list.
MIQ Worker Omicron Outbreak
One symptomatic household contact of the MIQ Omicron case has tested positive for Covid-19. The contact was already self isolating, and all other household contacts have returned a negative test so far. This positive case will be formally included in tommorow's case numbers.
A total of 86 contacts have been identified in relation to the case, 75 of which have at this stage returned negative test results. In regards how the MIQ worker contracted the virus, the Ministry of Health said they are investigating the "transmission route" of the outbreak, and continue testing of the Stamford Plaza facility today.
There are a number of locations considered high-risk. The Ministry is asking anyone who was at any of these locations at the specified time to get tested immediately, self-isolate and then get a further test on day 5.
There have been a total 4,817,429 vaccine pass downloads to date. There were 13,621 in the last 24 hours.
Click here for a list of updated locations of interest.
Check the Healthpoint website here for vaccine centre locations.
Photo: Sipa USA / Alamy Stock Photo