23 August, 4pm
Auckland will stay at alert level 4 for another eight days, until 11.59pm on Tuesday 31 August.
The rest of New Zealand will stay at level 4 for an additional four days, until 11.59pm Friday 27 August.
The settings for Auckland will be reviewed on Monday next week, and for the rest of the country they will be reviewed this Friday.
Prime Minister Jacinda Ardern says Auckland's time in level 4 "needs to be a full 14 day cycle".
She says for the rest of the country, whether we come out of level 4 will depend on:
If any new cases emerge in locations other than Auckland

If wastewater testing remains negative

If cases do emerge in other parts of the country, whether they are cases that were already in isolation
"We are still very much in the thick of this outbreak," the Prime Minister says. "Delta has changed the rules of the game but we've changed our approach too."
"It is absolutely possible to get on top of this, we just need to keep it up and ensure we're not in restrictions any longer than we need to be."
Because people were allowed a 48-hour window to get home when lockdown was announced, we've only actually had 72 hours where everyone across the country has stayed put. Around 8000 people flew out of Auckland during that period.
An extension of level 4 is needed because our current transmission rate, which is the number of people that each case is passing the virus on to, is around six or higher. Ardern says this number needs to be less than one in order for the virus to be stamped out.
She says Delta had "a head start on us and we needed to catch up as quickly as we could."
Early modelling suggested it would be eight to 10 days before cases peaked, and we're roughly at day six now, so cases may get worse before they get better.
"We don't yet believe we've reached the peak, or the edges of this outbreak," Ardern says.
There are currently more than 320 locations of interest with over 13,000 contacts recorded.
Previously when there was a Covid case identified at a large event, only those who the case had been in contact with would be considered a contact. But now given the high transmission rate of the Delta variant, every person attending the event is considered a contact.
"Delta did manage to create contacts all over the country," says Ardern.
Parliament will be suspended for one week, based on advice from the Director-General of Health.
Ministers will still be able to appear before select committees via video calls.
"While of course we want to ensure that representatives from across the house have the ability to scrutinise the government at this time, physically bringing MPs from across the country to Parliament does pose risk," says Ardern.
23 August, 1pm
There are 35 new community cases of Covid today.
33 of those are in Auckland and two are in Wellington. So far, this brings the total number of cases in the current outbreak to 107.
This means there are now a total of 99 community cases in Auckland and eight in Wellington.
All new cases have been or are being transferred to managed isolation facilities.
72 of the total 107 cases have been epidemiologically linked to other cases, with the rest still under investigation.
Contact tracing staff have identified 13,230 contacts, and it's expected this number will rise. 6,773 have been contacted and are in self-isolation, and 42 percent have had a test.
There are now over 280 locations of interest. You can find the full list here on the Ministry of Health website.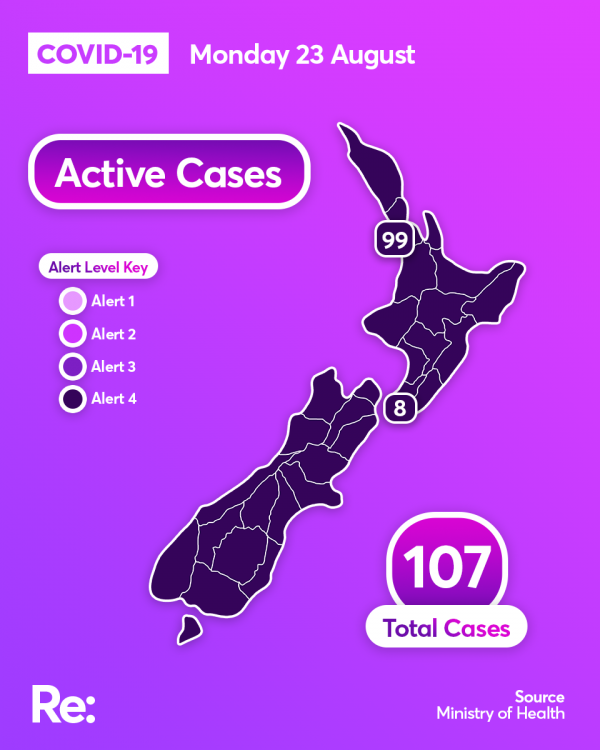 There were 35,766 tests processed yesterday.
Over a million New Zealanders are now fully vaccinated with two doses. An additional 770,000 people have had their first dose.
Yesterday 35,800 doses of the vaccine were given.
We'll be back at 4pm today when the government announces whether the level 4 lockdown will be extended.